Quality Tools & Controls
Your motorcycle tools, cables, and controls specialist!
Account
News
Lever Mate (p/n 08-0422)
posted Aug 17, 2009
Tags:
Product Press Releases
All Article Tags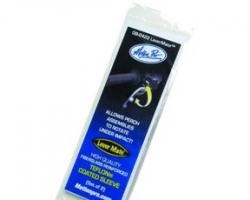 Crashing your dirt bike is never fun. Breaking a lever and getting stuck as a result of that crash makes it worse. There are many complex and expensive solutions out there, from folding and pivoting lever assemblies to complete rotating perches, all of them at a significant cost. Sometimes the simple and effective solutions get overlooked. Now the smart guys at Motion Pro have come up with a simple, elegant and inexpensive solution to this problem.
The Lever Mate is a fiberglass reinforced tape made with special materials, coated with Teflon and featuring an adhesive on one side. Apply the tape to your handlebar where your brake master cylinder or clutch lever mount, reinstall those items, and you are set to go. The Lever Mate has enough grip to hold your levers where they need to be while riding, but will allow the perches to rotate in a crash. At $5.99 for a package with enough for both sides of your handlebar, it's a no brainer compared to some products out there that might cost 20 or 30 times as much.
The Lever Mate is available through your local dealer, just look for the cool display card on their parts counter, or directly through Motion Pro on our website. Visit us on the web at www.motionpro.com for more information and to find a dealer near you.