Quality Tools & Controls
Your motorcycle tools, cables, and controls specialist!
Account
News
Motion Pro Tire Spoons
posted Aug 17, 2009
Tags:
Product Press Releases
All Article Tags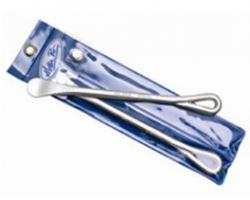 Motion Pro makes many different types of tire levers, from simple flat levers to the trick forged aluminum T-6 Combo Levers, but one of our most popular levers are the Motion Pro Tire Spoons.
Forged from high strength tool steel and hard nickel plated, the Tire Spoon is shaped to fit comfortably in your hand, and has a smooth rounded lever end that will reduce tube pinching and tire damage. Their wide, flat shape will minimize scratching rims too. At 10 inches long, they are the perfect length for all types of tires, from mini bikes to full size street bikes, and everything in between. Their length is also a perfect fit for an off road tool pack. Once you use a pair, you will see how handy and useful they are, and it's likely the rest of your tire levers will go neglected.
Motion Pro Tire Spoons are sold in single packs (p/n 08-0115), and also as handy pair (p/n 08-0409) that includes a storage pouch to help keep them organized and in one spot. Both are available through all major powersports distributors. With a suggested retail of just $14.50 each or $28.99 for the pair, and excellent dealer margins, they are perfect for both your service department and for sale to your customers in the parts department. Pick up a couple soon, and see how much easier your tire changing life can be. Visit us on the web at www.motionpro.com for more information and to find a dealer near you.