Quality Tools & Controls
Your motorcycle tools, cables, and controls specialist!
Chat is Offline
Account
T6 Tool Pack
Oct 31, 2007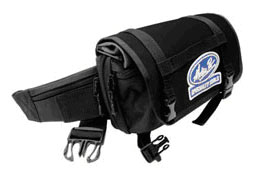 From World ISDE competition to a simple local trail ride, riders need tools and spares to keep them going on the trail. A simple flat or a loose bolt can turn a fun ride into a nightmare if you are not prepared. But how do you carry all the items you might need, and keep them organized without interfering with the fun of your ride? Filling up the pockets of your jacket with stuff is no fun, and having to carry a tool bag on the fender of your motorcycle can make it handle poorly.
The Motion Pro T6 Tool Pack is the perfect solution for carrying those essentials when you are out on the trail. Built of tough 1680 denier Nylon, the tool pack has over 3000cc of capacity for everything you need to bring along on the ride. The pack has many tool loops and pockets to keep all your tools organized, and a large main pocket for spares and personal items. It also incorporates a removable map pocket that also functions as a work mat so you can have a clean place to work when you need it. There is also a neat compression strap system that keeps everything tightly in place and secure.
The belt of the tool pack fits nearly every size rider and uses non-slip materials to keep it firmly in place while you ride. The pack itself also has a reinforced bottom to resist wear against the seat of your bike, and includes a hideaway rain flap so everything stays nice and dry in case of an unexpected rain shower.
We also include a carabineer compass and an emergency whistle just in case you lose your buddies in the forest!
No one goes out on a ride hoping for a break down, but if something happens, it's a great feeling to know that you have all the tools you might need, organized into an easy to carry and compact unit.
Retailing at $49.90, the Motion Pro T6 Tool Pack offers great value for the price, and it also makes a great gift for the holidays. The T6 Tool Pack includes a recommended tool list inside the pack (prepared by an ISDE Gold Medal winner!), so you can get some great ideas about what to put in it.
Don't forget to check out all the great trail tools that Motion Pro designed to work with the T6 Trail Pack, all of them designed to be compact, lightweight, and easy to use. Go see the T6 Tool Pack and Motion Pro tools at your local motorcycle dealer or see us on the web at www. MotionPro.com.
Featured Products
All Article Tags