Quality Tools & Controls
Your motorcycle tools, cables, and controls specialist!
Account
News
Suz GNCC rider Josh Strang draws first blood takes first to rounds by storm using the Motion Pro Revolver Throttle system
posted Mar 9, 2010
Tags:
Racing
All Article Tags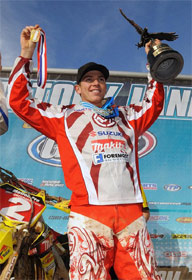 Brea, Calif. - March 8, 2010 - FMF Makita Suzuki's Josh Strang put his RM-Z450 on the top step of the XC1 Pro podium for the second time in Grand National Cross Country Series. Strang dominated the Maxxis General round of the 13 event series in Washington, Georgia.
"I've worked hard for this and it feels good," said Strang. "And to get two wins is great. I got a good start, perhaps the best start I've ever got on the 450, and I rode well. I think I was better prepared for this race than I was last week's race in the sand and my bike worked awesome, so it was a good day for us."
Strang cruised to an easy victory crossing the finish line with a twominute lead. Strang now has a 14-point advantage going into the third round on Mach 20-21 in Morgantown North Carolina.
Rodney Smith dominated the Sportsman A Class with the new nearly stock 2010 fuel injected RMX450Z. It was an exciting race with Rodney second at the first turn and an all out battle with Shawn Clark throughout the race swapping leads each lap. In the end, Rodney got the advantage and won by over three minutes and is currently number one in the points race.
The FMF Makita Suzuki team is happy with the way the 2010 season has started. "This is a great way to start the season," team manager Mike Webb said. "Josh, Rodney and the entire crew have put a lot of long hours to be ready and winning is proof of that. It's a long season, though, and we just need to keep our head down and stay focused."
XC1 Results:
1. Josh Strang
2. Paul Whibley
3. Chris Bach
4. Charlie Mullins
5. Nate Kanney

Sportsman A Results:
1. Rodney Smith
2. Shawn M. Clark
3. Bryan Henson
4. John B Robbins
5. Clayton Enslin
With back to back wins, Josh has demonstrated that he is the man to beat in this year's GNCC series.
Off-road racing legend Rodney Smith piloted his all-new 2010 Fuel Injected RMX450Z to his first race win of the season in the Sportsman A class.
Suzuki's new RMX450Z has proven to be a powerful weapon for the serious off-road racer.