Quality Tools & Controls
Your motorcycle tools, cables, and controls specialist!
Chat is Offline
Account
The Motion Pro MP (Multi Purpose) Tool
Oct 31, 2007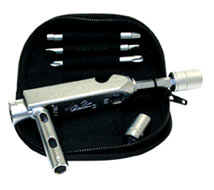 There are many multi tools available from many manufacturers, but most are based on familiar forms like a pair of pliers or a pocketknife. The patented Motion Pro MP tool is completely unique, and packs so many tools and functions into a small package that sometimes people are intimidated by it. "What the heck do I do with this thing?"
You can do a LOT. Armed with just our MP Tool, someone could very nearly completely disassemble a modern off road motorcycle, with the possible exception of removing the wheels or the engine.
The MP tool has two main parts, the tool body, and the 90-degree driver adapter. With just these two parts you can work on 8, 10, 12, and 14mm bolts. Then, with the square drive adapter, you can use any size 1/4" and 3/8" drive sockets. The kit includes 10mm and 12mm 1/4" drive sockets, with room in the carrying case for more. The hex drive adapters included in the kit provide you with a flat blade and Phillips screwdrivers, and 5 and 6mm Allen wrenches. If that's not enough for you, Motion Pro offers many more accessory hex drive adapters to fit a multitude of fasteners.
The MP Tool works with every bike and it's not only for off road riders. With just this one tool kit, a street rider can replace 90% of the cheap tools that come stock with a bike, and not worry about damaging a fastener or breaking a cheap cast wrench. But don't stop there, grab one to throw in the glove box of your car or truck, you never know when you need to have some tools handy. The MP Tool kit measures a compact 5 inches by 3 inches and it fits almost anywhere.
The MP Tool is also available in an American (SAE) version for American V-Twin owners, and comes with a handy belt pouch.
The holidays are coming up, and at $49.90 for the metric tool, and $59.90 for the American version, they make great presents.
Check out the Motion Pro MP kits at your local motorcycle shop, or see us on the web at www.motionpro.com.
Featured Products
All Article Tags