Quality Tools & Controls
Your motorcycle tools, cables, and controls specialist!
Account
News
Motion Pro sponsored FMF/KTM Factory riders Mike Brown and Kurt Caselli finish 1 and 2 at the fourth round of the WORCS at Racetown 395
posted Apr 19, 2010
Tags:
Racing
All Article Tags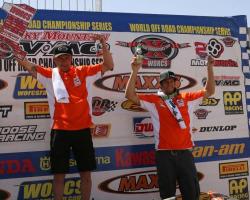 FOR IMMEDIATE RELEASE
April 18, 2010
Brown and Caselli Dominate WORCS Round 4
Adelanto, CA– FMF/KTM riders Mike Brown and Kurt Caselli finished 1stand 2ndoverall at the fourth round of the WORCS at Racetown 395.
The track conditions were rough and the weather was hot neither of which bothered the FMF/KTM Factory stars Brown and Caselli as they dominated the field in the desert terrain of Southern California.
Off the line, Brown was the lead KTM rider in 5thposition with Caselli sitting in 9th. Brown maintained 5thposition for the first few laps before passing for 4thand soon 3rdnear the halfway point. Meanwhile Caselli quickly picked off the bottom ten riders and was soon sitting in 5thposition before the pit.
Brown lost some time to current leader Ricky Dietrich when he stopped for gas first. The following lap Brown began to reel in Dietrich and made the pass the following lap. Brown was able to pull more on the field when most riders pit the next lap.
Caselli turned up the heat after the gas stop first passing into 4thand then moving to an easy 3rdposition after Kyle Summers broke with two laps to go. Caselli was soon hot on the trail of a tiring Dietrich, who was suffering from flu-like symptoms. Caselli quickly moved around Dietrich and began to close the gap on his teammate Brown.
Brown took home the win with his son there to greet him. "I always seem to win when my son comes to the races, I think he needs to start coming to them all," commented Brown after the event. Caselli finished in 2ndjust a few seconds down from Brown and Dietrich rounded out the podium in 3rd.
FMF/KTM Hare & Hound rider David Kamo made the drive from Idaho to participate in the Adelanto race. Kamo suffered from a poor start, caught and passed a few riders early on and then and rode a consistent pace to finish the race. "I struggled a bit here. I am used to being in 5thgear pinned at the desert races, and I never saw 5thgear once today," remarked Kamo. "But it is always worth the drive to come here for the race experience and the added training."
Brown's win today moves him up to third in championship points while Caselli remains in the lead 6 points ahead of Dietrich. "I would have liked to take home the win here today, but when I can't get it – it is good to know the guy ahead of me is my teammate," stated Caselli.
Next Event:Round 5 – Milford, CA – May 14-16, 2010
Overall Results –
Mike Brown – KTM
Kurt Caselli – KTM
Ricky Dietrich
Eli Tomac
Justin Soulè
Gary Sutherlin
Josh Strang
Bobby Garrison
Nathan Woods
Jonathan Davis
Overall Points –
Kurt Caselli – 87
Ricky Dietrich – 81
Mike Brown – 70
Justin Soulè – 65
Gary Sutherlin – 51