Quality Tools & Controls
Your motorcycle tools, cables, and controls specialist!
Account
News
Motion Pro, Inc. 20 years of sales and service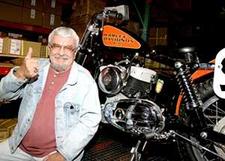 Motion Pro celebrated their 20th year anniversary in the powersports industry with a huge open house Friday night prior to the San Francisco Supercross. Motion Pro's new 60,000 sq ft warehouse located just down the road from SBC park attracted an estimated 800 guests from all facets of the motorcycle industry, a who's who of Distributors, Dealers, Manufactures, Press and Supercross race teams, all to many to list.
This social event had something for everybody, good food, plentiful drink and arcade games, and featured Bicycle trials exhibitions and Raffle give-a-ways. Additionally on hand was an incredible motorcycle display including many historical showpieces from Joe Leonard's 1957 flat head Harley to Kenny Roberts amazing Yamaha TZ750 outlawed dirt tracker as well as Brad Lackey's 1982 World Championship Suzuki RN500 and one of King Kenny's million dollar Modeneas 500 GP bike.
A special treat for racing historians was the Legends autograph table. Where fans lined up long and deep for the chance to talk to hero's of the past like Joe Leonard, Scott Brelsford, Eddie Mulder, Jim Rice, Don Castro, Don Emde, Ronnie Jones, Jimmy Filice, Brad Lackey and many more.
The evening included a surprise birthday roast for Rodney Smith and finished off with a special trophy presentation to Chris Carter himself for Motion Pro's 20 years of excellence marking an end to the biggest party of the year.