Quality Tools & Controls
Your motorcycle tools, cables, and controls specialist!
Account
News
Motion Pro Metric Mini-Pro T-Handle Socket Wrenches
posted Dec 7, 2007
Tags:
Product Press Releases
All Article Tags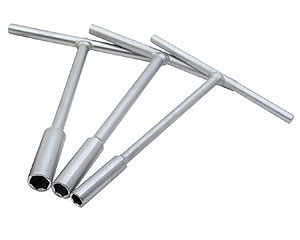 Motion Pro developed and offered the first deep-well T-handle wrenches. Featuring deep well sockets to fit over long bolts and a shaft and socket forged from super strong chrome-vanadium tool steel, Motion Pro T-Handles are the gold standard of their kind.
Motion Pro makes many different sets of T-Handles and a perfect addition to any toolbox are the Motion Pro Metric Mini Pro T-Handles. Incorporating all the key features of our standard T-Handles, the Mini Pro wrenches are a shorter length for easy storage and handling. Originally designed for a traveling toolbox, the Mini Pro T-Handles have proven to be useful in many different situations. Lighter and easier to handle than the full-size originals, they make for a fast and easy job when you don't need the deep reach of a long T-Handle.
Take a look at a professional mechanic's tool collection and you are likely to see a set of the Mini-Pro T-Handles.
Mini Pro T-Handles are sold individually or as a set. The three pieces Mini Pro T-Handle set (p/n 08-0131) includes the most popular 8mm, 10mm and 12mm wrenches and retails for just $29.90. Our more extensive Mini Pro five-piece T-Handle set (p/n 08-0340) includes 8, 10, 12, 13, and 14 mm wrenches and retails for just $48.50. Both kits are an excellent value. Motion Pro always includes superior margins for dealers, and a T-Handle set makes a perfect holiday gift for the wrench spinner customer. Motion Pro T-Handles are available through powersports distributors, so ordering and stocking a variety is easy and affordable.