Quality Tools & Controls
Your motorcycle tools, cables, and controls specialist!
Account
News
KTM Oil Filter Removal Tool
posted Dec 7, 2007
Tags:
Product Press Releases
All Article Tags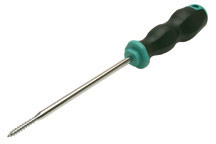 The KTM Racing 4-stroke bikes are a serious piece of machinery. They provide high performance, lightweight, and excellent handling in a very solid package. KTM also took some extraordinary steps to protect the engine from the demands of off-road racing. A great example of this is the use of TWO oil filters in addition to oil screens to make sure the engine oil is well protected from contaminants.
Keeping your KTM in top running condition requires regular oil and filter changes. However, KTM came up a little short in the "easy to work on" category when it came to changing the oil filters. The oil filters are held in their own separate housings on the backside of the engine, and while the covers are easy to remove, the filters are recessed deep in their housings, and are held in by a rubber grommet on the backside of the filter. You can pry on the side of the filter with a screwdriver, but you risk damaging the sealing surface of the housing. If you do that, you have to replace the engine cases!
Motion Pro has come up with a simple solution. Using a screwdriver type handle, we added a coarse screw thread with a point on it. With this tool, it is easy to pierce the sheet metal end of the filter with the point, and the threads will hold on to the filter to make removal easy. No more potential damage to the engine cases and changing filters is quick and easy.
Keeping your KTM in top running condition requires regular oil and filter changes. With the Motion Pro KTM Oil Filter Tool, that job just got a lot easier. Stock up on a few for your KTM customers, and show them how easy it is to keep their bikes in top shape!