Quality Tools & Controls
Your motorcycle tools, cables, and controls specialist!
Chat is Offline
Account
Featured Products
08-0472

Deluxe Piston Pin Tool

Buy Now
Jun 29, 2010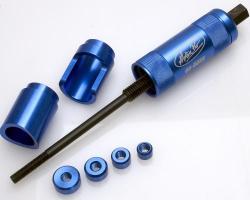 Motion Pro is on a roll this month with new and updated tools. Elsewhere you can read about the new Bead Buddy® II, and we are also proud to announce the revised Deluxe Piston Pin Puller Tool.
The Piston Pin Puller is one of our oldest tools, and a must-have for any mechanic who works on engines. Pulling the pin out of an old, worn piston can be a serious pain, and if things go wrong you can damage many parts, from the piston itself, to the rod and more. The Piston Pin Puller made easy work of removing virtually any size wrist pin, from mini bikes to big American V-Twins.
As bike technology has marched on, one of the new parts that have shown up is the slipper skirt piston in modern motocross four stroke engines, which has almost no piston skirt at all. The original Piston Pin Puller, with it's full circle face, was difficult to align on a slipper skirt piston.
The new Deluxe Piston Pin Puller features a new interchangeable piston adapter set, one for full skirt pistons that makes 360 degree contact with the piston, and a short skirt piston adapter designed for use with slipper pistons which often have a cutaway design, or the piston crown over hangs the wrist pin boss. With these two adapters, the puller is completely functional with any piston currently in use. Motion Pro also updated the design with aluminum pin adapters, so that the piston pin is completely protected from any chance of being marked or scratched. These four adapters will allow the puller to work with any size wrist pin from 13mm to 24mm.
Like the sound of this new, more versatile tool? Have a current job where it would come in handy? You're in luck, because the Deluxe Piston Pin Puller is in stock and available now.
Featured Products
All Article Tags