Quality Tools & Controls
Your motorcycle tools, cables, and controls specialist!
Chat is Offline
Account
Featured Products
08-0439

Motion Pro Bead Popper

Buy Now
Jul 20, 2010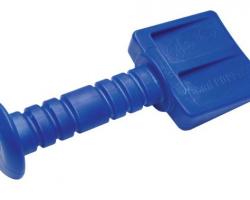 Changing tires or tubes can be a strenuous task any time, and having to wrestle with a tire bead that will not dismount from the rim can make a tough job even more frustrating. Motion Pro has a simple, light and easy solution for home mechanics and trail riders alike.
The Motion Pro Bead Popper is a durable, high impact plastic tool that can dislodge stubborn tire beads from nearly any tire, even many tubeless tires. Using a dead blow hammer and the Bead Popper, a mechanic can quickly dismount a tire bead and get on with the job of changing the tire or tube with less effort and time.
Small, light and compact, the Bead Popper is easier to use than lever or press tools, and is small and light enough to be carried on the trail in a tool pack or bag. The Bead Popper, p/n 08-0439, is available from your local dealer or directly from Motion Pro. With a suggested retail of just $19.99, it makes a great addition to your tool kit.
Featured Products
All Article Tags