Quality Tools & Controls
Your motorcycle tools, cables, and controls specialist!
Account
News
posted Jul 20, 2010
Tags:
Product Press Releases
All Article Tags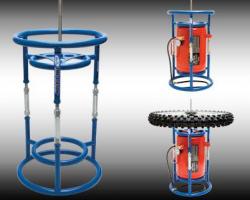 Back in 2008, Motion Pro wrote an article about changing tires to share some of the knowledge we have gained over the years in building various tire tools. The article is thorough and entertaining for a subject that most mechanics approach with a little bit (or maybe a lot) of dread. You can check out the complete article here
Since then, we've been hard at work on a couple of new tools that make changing tires even easier. First and foremost is our brand new Tire Station. The Tire Station is a tire changing stand with a unique twist. If you own a 5 or 10 gallon air tank you probably know that transport is never easy or convenient, but filling tires is part of changing them, so we built the Tire Station. It functions like a normal ring type tire changing stand with the added bonus of capturing your air tank inside. The Tire Station also acts like a roll cage for your air tank, protecting the valves and gauge. Now that's convenient!
Also new to our line is the Bead Popper, designed for breaking the bead on street and off-road motorcycle tires. This tool is great for the shop, track or even on the road as a compact, lightweight, packable tool. The Bead Popper is easier and more convenient to use than a press or lever tool and is made in the USA with durable, high impact plastic.
In addition, we've updated the original Bead Buddy, a must have tool for changing tires. It reduces the amount of effort required and also protects your wheels from potential damage. The new Bead Buddy II was redesigned and is now made of extruded aluminum. The curved shape makes it even easier to change tires, as the curves allow the tire to move much easier than the flat planes of the original. The extrusion is also more durable and lighter than the old welded steel design, saving weight in a tool pack. With its blue anodization and cool laser etched markings it looks good just sitting in your tool box, making your friends jealous. Best of all, we were able to reduce the price, even though it looks and performs better than the original.
These and other Motion Pro products are available now through your local dealer, or on the Motion Pro website. Check 'em out, we promise they'll help ease your tire changing worries.