Quality Tools & Controls
Your motorcycle tools, cables, and controls specialist!
Chat is Offline
Account
Jul 20, 2010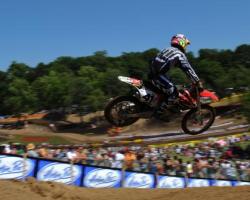 The Lucas Oil Championship Motocross series has become the most competitive and hard fought series in the world. Accomplished racers from many nations travel to the best outdoor MX tracks and facilities the United States has to offer to compete in this historic series. The grueling two moto format, raced on tracks that are longer (a mile or more in length) and rougher than Supercross, tests the riders resolve and pushes them to their limit, leaving only the best of the best to stand atop the podium at the end of each race day.
Motion Pro has been involved in motocross ever since our company president was a National motocrosser himself, racing with the likes of Brad Lackey and Gary Jones on the TransAMA circuit in the 70's. It was from these strong roots that Motion Pro was born, and since then we have always been loyal to the most popular competition in motorcycling. Motion Pro tools are used by virtually every team in motocross, and the new Motion Pro Revolver throttle is becoming the "must have" control system for riders to set their bikes up perfectly at each track they race at. Top teams like JGR MX rely on Motion Pro tools and controls to help them cross the finish line first.
The 2010 Lucas Oil AMA Pro Motocross Championship introduced revolutionary changes to American motocross with same day national coverage on network TV for 5 of the 12 rounds, the integration of women's motocross and the move to make all 12 rounds one-day events. The addition of these elements will help to usher in a new era for the most prestigious motocross championship on the planet, with the continued goal to uphold many of the traditions that have made the sport great for four decades.
The season is now halfway over, but there are still 6 races to be held at locations in virtually every part of the nation. As the official Tool & Controls sponsor of the Lucas Oil Championship, Motion Pro invites you to pack a little sunscreen, fill up the ice chest, put on some hiking shoes and go watch some of the best racing to be found anywhere. For more information on the series near you check out www.allisports.com
Racing
All Article Tags