Quality Tools & Controls
Your motorcycle tools, cables, and controls specialist!
Account
News
Jeffrey Carver Wins with the Motion Pro Revolver Throttle
posted Jul 28, 2010
Tags:
Racing
All Article Tags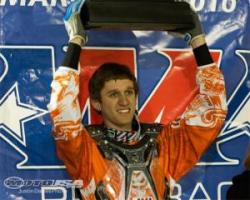 AMA Pro Singles racer Jeffrey Carver wins with the Motion Pro Revolver throttle at the I-96 Raceway in Lake Odessa, Michigan, on July 10. The variable rate design of the Revolver throttle allows Carver to tune the feel of his Yamaha YZF450 for every track he races at, giving him the feel and control he needs to stay out in front of his competitors.
"The new throttle reel system works great", says Jeffrey, "I have used the faster ones at a few limestone tracks in Ohio, including Lima. The deeper the track, the bigger reel I was able to put on and it helped out a lot. It allowed me to get the bike turned quicker and easier to get thru the deep cushion and get a great drive out."
Carver is currently leading the points in the Pro Singles championship, with a 28 point lead over second place, and he has 3 wins total this season so far. The next event is the inaugural Calistoga Half-Mile race this weekend in beautiful Calistoga, California. Make a trip out to the race, stop by Carver's pit and check out the innovative Revolver throttle.