Quality Tools & Controls
Your motorcycle tools, cables, and controls specialist!
Account
News
Peter Lenz, Motorcycle Racer and All Around Great Kid, 1997-2010
posted Aug 30, 2010
Tags:
Racing
All Article Tags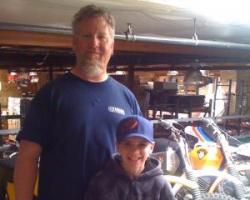 By Chris Van Andel, Motion Pro race support manager
We all just lost one of the greatest kids I have ever had the pleasure to know, and one of the most talented young riders to swing a leg over a racing motorcycle. Sunday morning August 29, Peter fell on the warm up lap of the USGPRU MD250 race at the Indianapolis Speedway, and sustained fatal injuries from contact with another rider. He passed away in a nearby hospital a few hours later.
I first heard of Peter when he was still 10 years old, I saw some videos of him riding and sought him out to offer whatever help Motion Pro and I could provide. Peter and I became really good friends and we have supported him through Motion Pro for three years. He was a special kid, and I am very saddened by this tragedy. Everyone here at Motion Pro extends their deepest sympathy to his family in this terrible time.
You can find videos of him at 10 and 11 years old on Youtube, riding a CRF150R powered RS125 Honda, and leaving people behind who are riding open class 1000s with 5 times the horsepower. Watching him ride, he was obviously extremely comfortable doing what he was doing, and could make split second decisions on where to put the bike. He was just amazing to watch. He could thread through a pack of slower riders like water, and never disturbing the line or position of the riders he was passing. You could see the decision making process in action of a much older racer, and a confidence and level of communication that is not common on riders twice his age. Yet, the kid in him was there too, he was no emotionless prodigy child. His favorite stuffed toy, a dinosaur, became his logo, and it was featured prominently on his leathers.
His skills were such that he went to several tracks that he had never been to before, and after a day or so of practice, would be setting track records. He was a real natural, and I saw the qualities of a world champion, even at 11 years old. He was given an expert license in the AFM at 11 years old, the last time that happened was 1970, and the kid was Randy Mamola. You might remember how Randy's career went…
Peter was amazingly mature for his age, comfortable discussing suspension settings and throttle control, but was still a total kid too, begging me to bring the mocha bar popsicles he really liked for weeks before our next meeting at the track.
He also had a great way of describing his changing thought processes. He told me once that a squirrel and a gerbil lived inside his head, and they each had an exercise wheel. The squirrel was fast, but he was lazy, and the gerbil was slow but dedicated. The squirrel gave Peter his speed, and the gerbil solved problems for him. One day at the track he was staring off into the distance with a blank look on his face and I asked him what he was thinking about. He said, "Nothing. The squirrel and gerbil are gone right now". There was never a dull moment with Peter!
I am going to miss him, I was really looking forward to watching him grow up and move into the world ranks, I know for a fact that is where he was going. He had support all over, from his family all the way up to the MotoGP world, as Colin Edwards was an enthusiastic mentor to Peter, which is a perfect fit, I could easily see many similarities in their characters.
I never got a chance to actually ride with him, the opportunity never came. Yet he would always pester me about it. I told him that he didn't want to ride slowly with an old man, but he never gave up asking. I won't get that chance now, but I hope I will be able to see him someday in the racetrack in the clouds, where your tires don't go off, your brakes don't fade, and the conditions are always perfect for a fast lap. Godspeed Peter, I will always remember you, and the brightness you brought to my life.
---
View original article at
http://www.facebook.com/motionprofans?ref=sgm#!/notes/motion-pro-inc/peter-lenz-motorcycle-racer-and-all-around-great-kid-1997-2010/428821754735