Quality Tools & Controls
Your motorcycle tools, cables, and controls specialist!
Chat is Offline
Account
Feb 2, 2008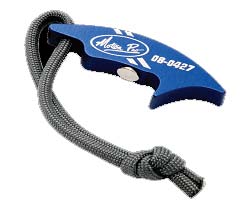 A common problem that mechanics face is holding rotating gears in one position while installing or removing a gear, timing a camshaft, or just checking engine leak down percentages. Some mechanics use a soft piece of aluminum or brass to wedge between two gears to keep them from rotating.Others use a shop rag, or even bolts or a screwdriver to do this job. All of these techniques can lead to broken gear teeth or contamination of the engine with metal or cloth debris.
To solve this problem, Motion Pro developed the Gear Jammer (P/n 08-0427), a simple and ingenious tool that securely locks mating gears together. The Gear Jammer is made of billet aluminum and incorporates a powerful magnet to hold it in place, freeing both your hands for work. Whether you are installing or removing fasteners on crank or oil pump gears, or using the Gear Jammer to hold the crankshaft in one position when installing cylinders or pressure testing an engine, its unique design will safely and securely lock two straight cut gears together and keep them from rotating without damaging the gears or contaminating the engine.
This compact tool will fit in anyone's toolbox and with a retail price of just $18.99 it is an economical tool to buy even if you aren't working on engines every day. The Gear Jammer is available now at your local motorcycle shop or on the web at www.MotionPro.com
Featured Products
All Article Tags