Quality Tools & Controls
Your motorcycle tools, cables, and controls specialist!
Account
Oct 1, 2010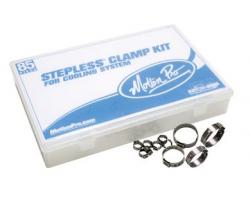 Motorcycles are a visceral experience. They stir the emotions, please the eye and make music for our ears. A beautifully formed fender with custom paint can rival a Rembrandt, a special exhaust system sounds like a mechanical symphony. Motorcycles are one of those machines that are more than the sum of their parts, and occupy a special place in our souls.
Not everything about a motorcycle is exciting and sexy though. Wheel bearings don't do much to ignite passion. No one gasps in awe at an oil filter. The sight of a hose clamp doesn't make you weak in the knees…at least, not until you've seen the Oetiker Stepless Ear Clamps, now carried by Motion Pro. Just ask any factory race team, they all use them. Many OEM manufacturers use them as well, because of their efficiency and security. In the past they have been hard for the average consumer to find, which is probably why you haven't been exposed to their awesomeness until now.
Stepless Clamps are a major upgrade over a standard hose clamp. Their low profile is an advantage when working on today's densely packed engines, as they are easily installed in many different orientations by using our two way Side Jaw Pincer Tool. Removal is a snap too, because this tool is used to both install and remove the clamps. Standard hose clamps are inefficient, take up more space than needed, and have a tendency to fail due to their many parts-and we all know that a cooling or fuel system failure is never a good thing. They can also pinch a hose, causing leaks or other damage, whereas Stepless Clamps are a 360 degree design, which makes it impossible to pinch a hose. This is an important factor, especially if you have upgraded to silicone hoses. The one piece design is extremely secure, virtually eliminating any possibility of failure.
Stepless clamps are not going to help you get a date, but they will help save you time, space and worry. Follow in the footsteps of some of the best racing teams in the world and update your cooling and fuel system with the best. They are available in a complete 85 piece fuel and cooling kit as well as sold in individual packs. See your local dealer or contact us for more information.
Featured Products
All Article Tags