Quality Tools & Controls
Your motorcycle tools, cables, and controls specialist!
Chat is Offline
Account
Corona Honda Racing
Mar 3, 2008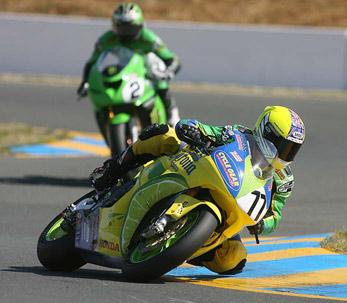 There is a common saying, "Always the bridesmaid, and never the bride." In the world of motorcycle road racing there is always a huge entourage of bridesmaids to one of the big factory teams that happens to be on top that season. Team Corona Racing and its team of dedicated technicians and riders have been a fixture at the "wedding," that is AMA Professional road racing, for almost a decade now. Team Corona has been racing in the AMA in one form or another since 1999, as well as entering bikes in all sorts of events worldwide from the Willow Springs 24 Hour Endurance race to the Macau Grand Prix and the Suzuka 8 hours. The highlight for Team Corona was winning the 2001 and 2002 750 Superstock Championships, not to mention three podiums at the prestigious Suzuka 8 hours in Superstock and Extreme Formula (XF) classes.
There is one part of racing where Team Corona plays second fiddle to no one, marketing! Team owner and marketing guru Tim Saunders was one of the first to succeed in obtaining outside sponsorship with the teams namesake Corona Extra. Over the years he created the model for the VIP hospitality tent that is now mimicked by most all factory race teams. Known more for their professional marketing and VIP Hospitality, Team Corona now looks to have all the pieces for another Championship run. Starting in 2007 with James Ellison on a Honda CBR1000 Superbike, Corona Honda was immediately back in competition with finishes in Superbike inside the top ten at many events and a best fourth place at Laguna. For a team running a new bike and a new rider who had not raced in the US previously to do as well as they did right out of the gate was nothing less than amazing. Paddock insiders and fans everywhere took new notice of what Corona Honda was doing.
Team principal Tim Saunders is responsible for much of it. By hiring James Ellison when he became available after his season in MotoGP with the Yamaha/Dunlop Team, he immediately had top-notch talent. Tim also was able to secure the services of Dwayne McCracken as Crew Chief. Dwayne came to Corona Honda from Klaffi Honda Racing in World Superbike, and also has extensive experience in MotoGP and British Superbike. He was familiar with the current iteration of the mighty Honda CBR1000 Superbike, a huge advantage to the team that was having their first year with a new manufacturer.
2008 has brought several exciting changes to the team. The team added new blood in the form of Matt Lynn and Jake Holden. Honda has also introduced the brand new CBR1000, which has many riders and some of the most jaded journalists raving. Corona Honda will race in both Superbike and Superstock. At the Fontana AMA preseason test, while having to struggle with parts shortages (they had just gotten their bikes bone stock in the crates two days earlier), both Matt and Jake were impressed with their new rides and their new team. Even while riding basically stock motorcycles on a track not ready for racing, they put up some good lap time numbers. It's all looking like it might come together for Corona Honda this season. Is it time to be the bride and not the bridesmaid? See for yourself, get out to see the AMA Superbike series when the pros come to your town. Stop by the Corona Honda Hospitality tent and tell them Motion Pro sent you. Check www.amasuperbike.com for race dates.
Motion Pro is a proud sponsor of Team Corona Extra. More information can be found on the Team at www.corona-racing.com.
General News
All Article Tags