Quality Tools & Controls
Your motorcycle tools, cables, and controls specialist!
Account
News
posted Mar 3, 2008
Tags:
Product Press Releases
All Article Tags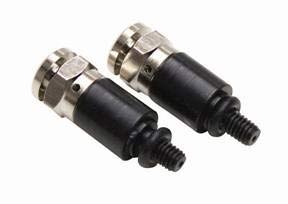 Motion Pro introduces its newest addition to the line of Pro Bleeders for off-road motorcycles with upside-down forks. Designed for 2007-2008 KTM SX/SXF/XC/XCF with WP 4860 MXMA Closed Cartridge forks with external preload adjustment, the Pro Bleeders for KTMs, P/N 11-0053, M4x0.7 allows you to bleed excess air pressure from your KTM forks with just the push of a button.
While riding, air pressure that gradually builds up inside the forks will cause the front suspension to feel harsh, and can contribute to fork seals leaking. Unlike an OE system, which utilizes air bleed screws to relieve air pressure, the Pro Bleeders are designed with a push button valve that allows air to be expelled from the forks without tools. Air pressure can be relieved any time and place, even trailside while wearing gloves.
The new Motion Pro KTM Pro Bleeder is both attractive and durable. The adapter portion is made of anodized aluminum and the valve itself is chrome-plated brass. The valve is available separately under P/N C11-027A in case you ever need a replacement. The entire unit is very easy to install. You simply remove the stock fork air bleed screw with a screwdriver, and install the Pro Bleeder with a 10mm wrench. Motion Pro's Pro Bleeders P/N 11-0053 are the easiest suspension upgrade you can make to your KTM forks.
Motion Pro makes Pro Bleeders to fit most late model off-road applications and each set sells for a low suggested retail of $18.90. To find out which Pro Bleeder fits your specific model go to: http://www.motionpro.com/tech/articles/fork_bleeder_chart/. For more information on the complete line of Motion Pro products and applications, visit our website at http://www.motionpro.com.