Quality Tools & Controls
Your motorcycle tools, cables, and controls specialist!
Account
News
posted Mar 3, 2008
Tags:
Product Press Releases
All Article Tags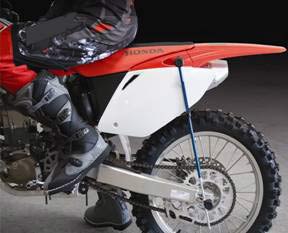 Correct suspension tuning is a must for reducing lap times and improving the handling character- istics of your motorcycle. The first and single most important step is to measure and set your bike's spring sag. This will ensure you have the proper spring rate and ride height for your bike, weight and riding style.
The correct spring rate insures that the shock is working in the proper part of its travel throughout the suspension stroke and the proper ride height guarantees that your steering geometry is optimum for cornering and handling.
In the past, it took two people to measure the sag. You needed the rider wearing their gear on the bike and a second person to handle the tape measure to obtain readings and do the math. While not a difficult process, this important suspension setup procedure was often neglected because a second person wasn't around to help.
Motion Pro is excited to introduce the Uni-Sag™, the one-person sag scale for off-road enthusiasts and professional suspension tuners alike. It is now simpler than ever before to set your sag on your full-size MX and off-road motorcycle, and best of all setting sag with the Uni-Sag™ is a one-person job.
The Uni-Sag™ is easy to set up and the bottom mounts securely to any late-model off-road hollow axle (9.7mm - 20.5mm inside diameter). The top attaches directly to your rear seat bolt and an optional Fender Clamp (P/N 08-0440) is available for KTM rear fenders, or the front fender of any off-road bike. The Uni-Sag™ features a direct reading scale in millimeters, with a recording marker so there's no subtraction required when measuring your sag.
The new Motion Pro Uni-Sag™ is lightweight and attractive, with an anodized aluminum body and laser-engraved markings. It also comes with a custom blow-molded carrying case to protect it during storage and transportation.
Motion Pro specializes in tools of convenience, and the Uni-Sag™ is no exception. It combines the features of a tape measure, a calculator and an extra set of hands all in one handy tool. The Uni-Sag™ is perfect for the off-roader who wants a better-handling machine, the suspension tuner who wants an easy-to-use tool for routine setups, and the top-level racer who needs to check settings or make adjustments on the fly.
If you still haven't gotten around to setting your sag, let the Uni-Sag™ show you how easy it can be to do it yourself. For a low suggested retail of only $119.99 you'll be on your way to a better-handling, faster machine in no time.
For more information on the full line of Motion Pro's products and applications, look us up on the web at http://www.motionpro.com.