Quality Tools & Controls
Your motorcycle tools, cables, and controls specialist!
Account
News
KTM Offroad
posted Mar 31, 2008
Tags:
Racing
All Article Tags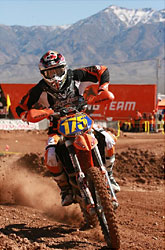 Motion Pro has a long and close relationship with KTM North America and has been a strong supporter of all KTM racing teams from the beginning. Our tools, cables and controls are an important part of the team's efforts, helping to keep their bikes in top shape, and performing at their best.
Factory KTM off road is one of the most successful racing programs in the history of American off road motorcycle racing, having won multiple championships in all offroad disciplines. The big Orange Crush steam rolled the competition in 2007 as KTM riders took home 6 out of 7 AMA Offroad Championships, showing up "Ready-to-Race" week-in and week-out.
2008 will see the KTM off road team expanding its efforts. KTM recently announced Team riders for the RedBull KTM Off-Road programs covering all off-road racing disciplines: GNCC, David Knight, Nathan Kanney, Justin Williamson. National Enduro, Mike Lafferty, Russell Bobbitt. WORCS, Kurt Caselli, Justin Soule. Hare and Hound, David Pearson, Quinn Cody, David Kamo. EnduroCross, Taddy Blazusiak, David Knight, Mike Lafferty and a new Baja offroad effort showcasing the all new 690 Baja motorcycle.
With more than ten riders competing in the most demanding racing series in the US, KTM Off Road teams are the ones to watch! Armed with an impressive line-up of new machines for 2008, KTM and Motion Pro are looking forward to running at the front of the pack again. Racing is an important part of Motion Pro product development and Factory KTM Racing has proven to be a valuable partner contributing to the success of Motion Pro cables, tools and controls.