Quality Tools & Controls
Your motorcycle tools, cables, and controls specialist!
Chat is Offline
Account
Rev2 Throttle Kits
Search by Vehicle
The most advanced variable rate throttle in the world
Innovative reel changing system lets you tailor the throttle rate to riding conditions and rider preference
Ultra-compact housing with snap-together elbows make it easy to install and change reels
New sleek design requires less handlebar space for lever clearance and throttle position
Use smaller reels for slower throttle rate and larger reels for faster throttle rate
Included cam reel provides progressive throttle response preferred by some riders
Unique reel design allows fast reel changes
Cable boot keeps dirt and dust out for reliable and smooth operation
Billet aluminum inline cable adjusters for easy installation and adjustment
Lower section of cables use 5 mm housing with PTFE liner for reduced friction, increased routing flexibility and lighter weight
Upper section of cables use 6 mm housing to provide solid support of adjusters
Simple to install and maintain
Designed by Motion Pro
Patent pending
Kit includes:
Rev2™ throttle assembly with throttle tube (MX/Off-Road kits include Titan™ Throttle Tube)
Motion Pro Rev2™ black vinyl cables specifically designed for your bike
Street/Road Race kits include Motion Pro RoadControl™ grips and MX/Off-Road kits include Motion Pro DirtControl™ grips
Standard interchangeable reels: 35mm, 40 mm, 45 mm, 50 mm
Cam reel (Sportbike kits include Street/Road Race cam reel and Offroad kits include MX/Off-Road cam reel)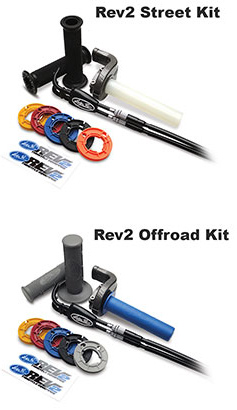 - or -
Search by OEM Part Number
Motion Pro records OEM part numbers in the same format as the manufacturer. In order to get correct search results, it is very important that you enter the OEM part number of the item you are looking for in the exact same format as the manufacturer of your vehicle.