PALATKA, Fla. (March 11, 2015) - The Rocky Mountain ATV/MC KR4 Arrive-N-Ride team kicked off the 2015 Grand National Cross Country Series in full force on Sunday with the Wild Boar GNCC in Palatka, Florida. The Arrive-N-Ride program extended its roster for 2015 to include a total of 31 riders at the opening round, ranging from 50cc Micro riders all the way to the premier XC1 Pro class, including international riders who are taking advantage of the luxuries provided with the KR4 Arrive-N-Ride program.
Headlining the team's efforts was XC2 Pro Lites rider Nick Davis, who came away with the win amongst an ultra-competitive XC2 lineup aboard his Husqvarna TC250. Davis will take the early points lead into round two this Sunday, March 15, in Washington, Georgia.
"I couldn't be happier to start the season with a win under my belt," Davis said. "The whole KR4 Arrive-N-Ride team has me prepped and ready to go after a championship in the XC2 class this season and I'm looking forward to keeping the momentum going."
Nick Davis topped the XC2 Pro Lites class with a big opening round victory
Photo: Ken Hill
In the XC1 Pro class, Thad DuVall rode his Husqvarna FC350 to an impressive 4th place finish, narrowly missing the podium in only his first race on the new bike.
"This Husqvarna motorcycle is so much fun to ride!" DuVall said after the race. "I was feeling great all day and I know I have the speed to battle with those guys for top positions. A couple of mistakes near the end cost me a podium but I'm definitely ready to go for round two."
Thad DuVall debuted his Husqvarna FC350 with a great ride at round one
Photo: Ken Hill
Following his 2014 250 B class championship season, Colin Keegan made his full-time debut in the 250 A class at round one. However, Keegan experienced an unfortunate crash on the opening lap that would ultimately end his day with two broken wrists.
KR4 Afternoon Race Results
XC1 Pro: Thad Duvall - 4th
XC2 Pro Lites: Nick Davis - 1st
250 A: Colin Keegan - DNF
250 B: Coleman Brinson - 13th, Conner Keegan, 250 B - 23rd
200 B: Kaleb Williams - 6th
Senior B (40+): Brett Haley - 2nd, Andrew Hepworth - 14th
Open B: Jobel Coronado - 2nd
KR4 Arrive-N-Ride competitors represented eight different classes in the 10 a.m. race, putting forth impressive performances across the board. The KR4 pits had some extra international flare at round one as three racers from Columbia, four from the United Kingdom and one from Dominican Republic paid a visit to the Wild Boar, each taking part in the Arrive-N-Ride program for the weekend.
87-8977-e6542b5de8e6.jpg" />
Sarah Baldwin (757) got off to a great start in the WXC class but ran
into an issue early on
Photo: Ken Hill
KR4 Morning Race Results
WXC: Sarah Baldwin - 20th, Brooke Cosner - 18th
Women Amateur: Brooke Slaughter - 6th
Senior A (40+): Duane Conner - 5th
Super Senior A (45+): Butch Molnar - 14th
4-Stroke C Lites: Brittain Laird - 14th
Senior C (40+): Sergio Villa Gómez - 14th
Super Senior C (45+): Juan David Velásquez - 10th
Super Vet C (35+): Andrés Macías Giraldo - 5th
Masters C (50+): Roy Palmer - 9th, Mark Wardingley - 10th
Grant Davis secured the first win of the season in the 65 (7-9) class
Photo: Ken Hill
Notable performances in the Youth division include a class win by Grant Davis in 65 (7-9), top five finishes for Peyton Whipkey in his 85 (12-13) class debut, and Jack Groover in the 65 (10-11) class. Korie Steede made the jump from the Girls class to Super Mini (12-13) this season, where she finished an impressive seventh place in the class.
Korie Steede put up a good fight against the boys in the Super Mini class
Photo: Ken Hill
KR4 Youth Race Results
Super Mini (14-15): Clayton Andrews - 23rd, Remington Andrews - 22nd, Cole Groover - 26th, Brandon Keegan - 10th
Super Mini (12-13): Korie Steede - 7th
85 (12-13): Dylan Brinson - 23rd, Joshua Conner - 32nd, Brian Keegan - 31st, Ron Kosarik - 39th, Peyton Whipkey - 5th
65 (10-11): Jack Groover - 5th, Chase Rutan - 12th
65 (7-9): Grant Davis - 1st, Nathan Conner - 12th
Round one of the 50cc Micro Championship took place at the opening round and KR4 Arrive-N-Ride's Tucker Whipkey and Dylan Kosarik represented the team in a great way. The Micros will return at round three in North Carolina.
KR4 50cc Micro Race Results
50 MicroXC (8-9): Dylan Kosarik - 12th, Tucker Whipkey - 5th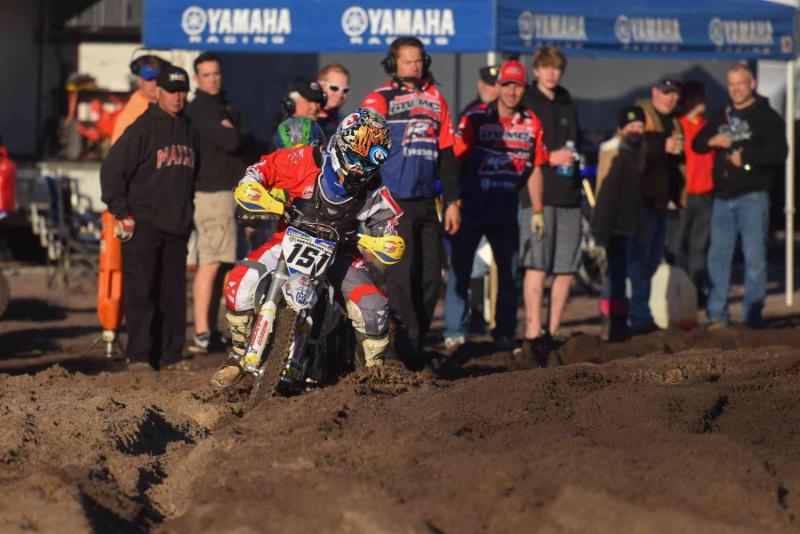 KR4 Arrive-N-Ride Team Manager Fred Andrews cheers on the Youth riders
Photo: Ken Hill
The KR4 team heads to Washington, Georgia this weekend for The General GNCC. Racing action from round two will begin on Sunday at 8 a.m. with Youth Bike racing, followed by Amateurs and WXC at 10 a.m. and the XC1, XC2 and top amateur classes will compete at 1 p.m.