Phoenix, AZ (3/4/2015) - LSR / JRi's David Flores braved one of the toughest courses of the season and charged his way to a second place finish in the Pro-am ATV class at round three of the 2015 WORCS series in Peoria, AZ.
Canyon MX is one of the roughest and most technical courses in the WORCS series with a full motocross track, big rocks and cacti's littering the off-road section, finishing was tough and getting to the podium, even tougher, but David Flores managed to do just that.
In the Pro-am class, David Flores had a good start and was in about fifth off the line. Flores got hung up behind a crash in the first couple of turns but he made up time and got into the number two spot in the fourth lap. Unfortunately, in the last couple of laps, Flores' kill switch came out and his quad shut off. "I was feeling really good out there. My Golden Motorsports engine was running great and I was catching the leader and then my kill switch came out. It took me a little bit to get it started again, but I was able to get back out there and catch back up," said Flores.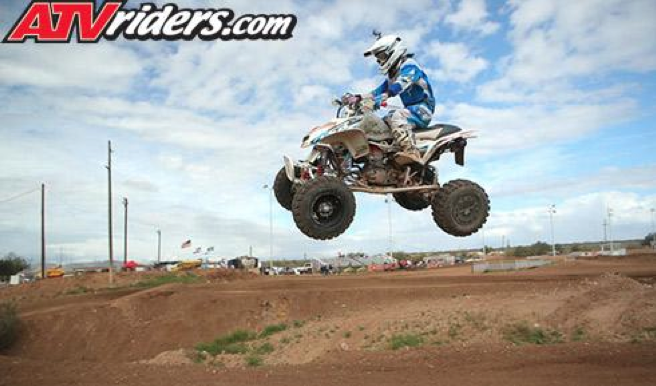 David Flores catches some air at Canyon MX WORCS
Flores was able to close the gap to 19 seconds, but he ran out of time before he could get close enough to make a move for the lead and finished in second. "With all of that happening, I was really happy to finish on the podium and it gives me a lot of confidence moving forward. I am going to go home and do some training and hope to be back on the podium for Havasu," said Flores.
The big rocks and tough conditions took their toll on Flores and his machine in the Production A class. Flores had a good start and was running in second when his sprocket got bent and he threw his chain. Flores was unfortunately unable to fix the issue, which ended his race early. "I was doing well and we ended up with a bent sprocket and the chain just came off. It is unfortunate but it happened," said Flores.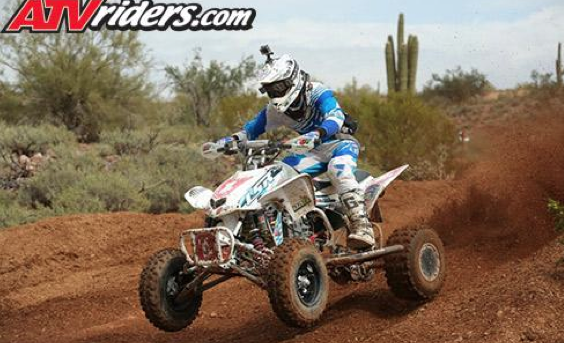 David Flores will be going for the win the WORCS Racing Pro-Am & Open A Class at WORCS Round 4 in Lake Havasu, AZ
Round four of the 2015 WORCS series will head to Lake Havasu, AZ on March 28-29th where David Flores will be going for the win in the Pro-am and Production A classes.