Blind Bearing Removal Set 8,10,12,15,17,20,25,30mm ID Brngs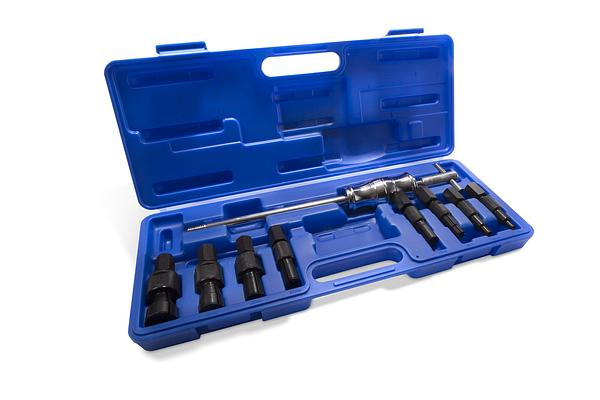 Set includes 8, 10, 12, 15, 17, 20, 25, and 30 mm collets
2 pound slide-hammer
Crossbar type shaft allows easy collet removal
Necessary tool for most transmission rebuilds
Can be used to remove wheel bearings
Part No. 08-0292
$172.99
orders of $29.99 or more ship for free
In stock at Motion Pro
It's ready to ship from here today
Accessories and Related Items
---
Replacement Products
WARNING:
This product can expose you to chemicals including Phthalate (DEHP), which is known to the State of California to cause cancer and birth defects or other reproductive harm. For further information, go to
www.P65Warnings.ca.gov
.
Downloads
Customer Reviews
set
I used this set a few times in class and had no problems with it. I thought it was easier and faster than any other set i used. So ill give it four stars for just the few times ive used it.
by Michael on August 28, 2008
---
DON'T BUY THE KNOCK-OFF
This subject just came up in a Facebook group, so I will share my thoughts (confession) here too: Here's a hard lesson learned: We have used a MotionPro blind bearing set for years, great tool. Not cheap. Finally, after literally hundreds of removals, two of the more frequently used collets got dull and would no longer grip the bearing. MotionPro being awesome as they are, they sell replacement collets, however when going to buy the two I needed I did notice an entire Tusk set for about the cost of the two replacement collets, lost my mind, and bought the Tusk set. Note that the Tusk set was in an identical-looking blow-molded case, looked like the same tool in a different colored box. Not so. I could not remove a single wheel bearing with the Tusk set, the collet stripped IMMEDIATELY. First bearing. I boxed that SOB up, sent it back to Amazon and ponied up for the MP replacement collets, and said a silent apology to them while I was at it. Buy the good tools for this task.
by NILS on March 21, 2020
---
Great product, but there's a catch
Excellent quality bearing puller, no question. But, if you should ever need to make a custom puller for an oddball bearing, be aware that MP was clever enough to use non-standard thread pitches on both the slide hammer ( it's a 1/2"-12 rather than industry standard 1/2"-11 ) and the expander spud is what appears to be 5/8"-20, rather than 5/8"-18. Very annoying, and done for no other functional reason than to prevent folks from easily making custom parts with off the shelf taps and dies.
on November 22, 2022
---
Write a review
We use cookies to offer you a better experience and analyze site traffic. By continuing to use this website, you consent to the use of cookies in accordance with our cookie policy.