When Honda Went Dirt Track Racing
Get the complete history as it unfolded! Now available, compelling first-hand stories brought out in over sixty interviews with some (unfortunately, not all) of the participants and the rich detail pulls the reader into this exciting story. A large selection of photographs accompanies the narrative, along with copies of period journalism, much of it from Cycle News, and many never-before-seen photos from private collections. In addition, expanding the story beyond Honda-versus-Harley, there are a number of sidebars that delve further into the fascinating history of the period.
"Has there ever been a research project as voluminous as this, focused entirely on dirt track racing?" "i can't imagine," says dave despain in his foreword
Chronicles the fascinating history of the development of the Honda dirt track program in the 1980s and early 1990s
---
A complete history of Honda's dominant RS750 Flat Tracker
GET THE ENTIRE HISTORY AS IT UNFOLDED IN THE '80S AND '90'S

---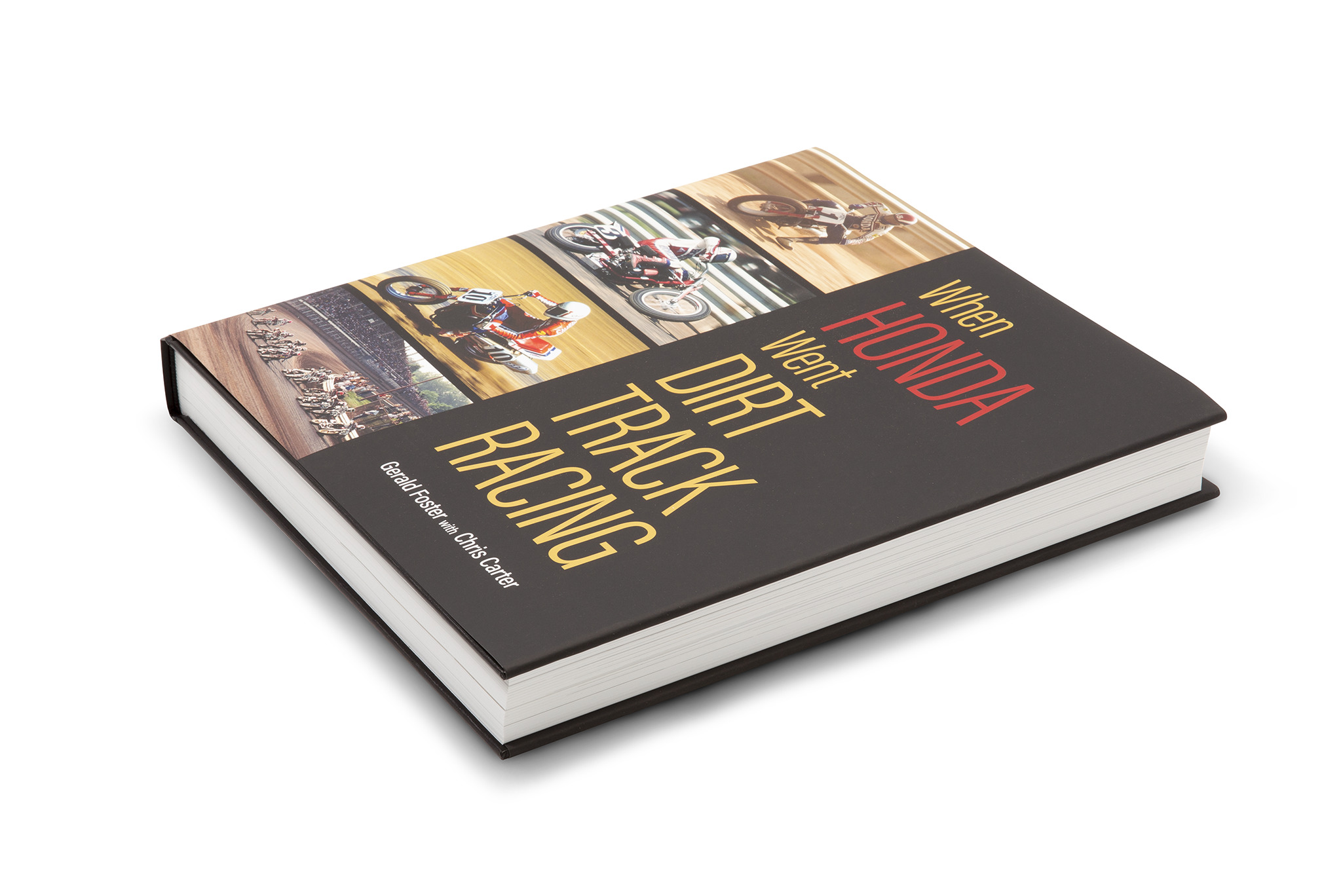 When Honda Went Dirt Track Racing, Book
limited to 1,000 hard copies
---
Chronicles the fascinating history of the development of the Honda dirt track program in the 1980s and early 1990s
Written by Gerald Foster and Chris Carter
Contains over 60 interviews with riders, engineers, and others involved in the development and racing of these bike
Get access to many more pages of rare history and photos below in bonus content section
560 pages
Perfect gift for your friends who love motorcycles and racing history
Dimensions: 12-3/8 x 11-1/4 x 1-1/2
book thumbnails / sample pages
---

Chris Carter
A gold medal winner in the prestigious 6-day ISDT, his passion for motorcycle racing transpired to a company built on hard work and success, Chris Carter founded Motion Pro in 1984.

Gerald Foster
Veteran writer, whose career began at BSA/Triumph in England, then with American Honda in California, was commissioned by Carter to write the book. He fell in love with dirt track racing at his first San Jose Mile in '75
Shipping Policy
Books are shipped via USPS Media Mail to all US domestic delivery addresses. Shipping rate includes freight and insurance. A flat rate of $13.28 ($8.23 shipping + $5.05 insurance) will be charged for each book order. Note: For additional books ordered, the flat rate cost of $13.28, will be added per book. Additionally, book orders cannot be combined in shipments with Motion Pro product orders. Product orders placed online at motionpro.com are shipped separately, standard shipping rates apply. Please allow 3 business days for us to process your order, plus around 3 to 4 weeks for USPS delivery. In some areas including Hawaii, Alaska, and Puerto Rico this can be considerably longer. USPS Priority 1-3 day shipping is also available upon checkout, USPS Priority shipping is limited to a single item purchase, rate is $21.30 ($16.25 shipping + $5.05 insurance). Please call us for freight cost to international locations. Phone: 650-594-9600 or email us
Bonus Content / Access
When first compiled, this book resulted in over eight hundred pages. Then reality set in. The cost to produce, freight charges, retail cost—and the very weight of the thing (The version you are reading now weighs near 7.5 pounds). All the above weighed in on the decision to reduce the number of pages. In addition, the printer was concerned that an eight-hundred-page book simply wouldn't hang together. We determined the page count could be reduced by making any of the excess material available digitally to general customers.
The bonus content will be available in two releases. The first release is scheduled on 12/1/21 and the second release is TBA. The content is available as an epub document.
Bonus Content First Release: Digital Bonus Content - Chapter One
Bonus Content Second Release: TBA
NOTE: Access to the bonus content cannot and will not be distributed by anyone except the original authors of the digital media provided by Motion Pro, inc.
We use cookies to offer you a better experience and analyze site traffic. By continuing to use this website, you consent to the use of cookies in accordance with our cookie policy.