T3 Cables
The increased efficiency of the T3 Slidelight Cables™ provide a lighter, smoother pull offering significantly increased performance and longevity over conventional OE cables
---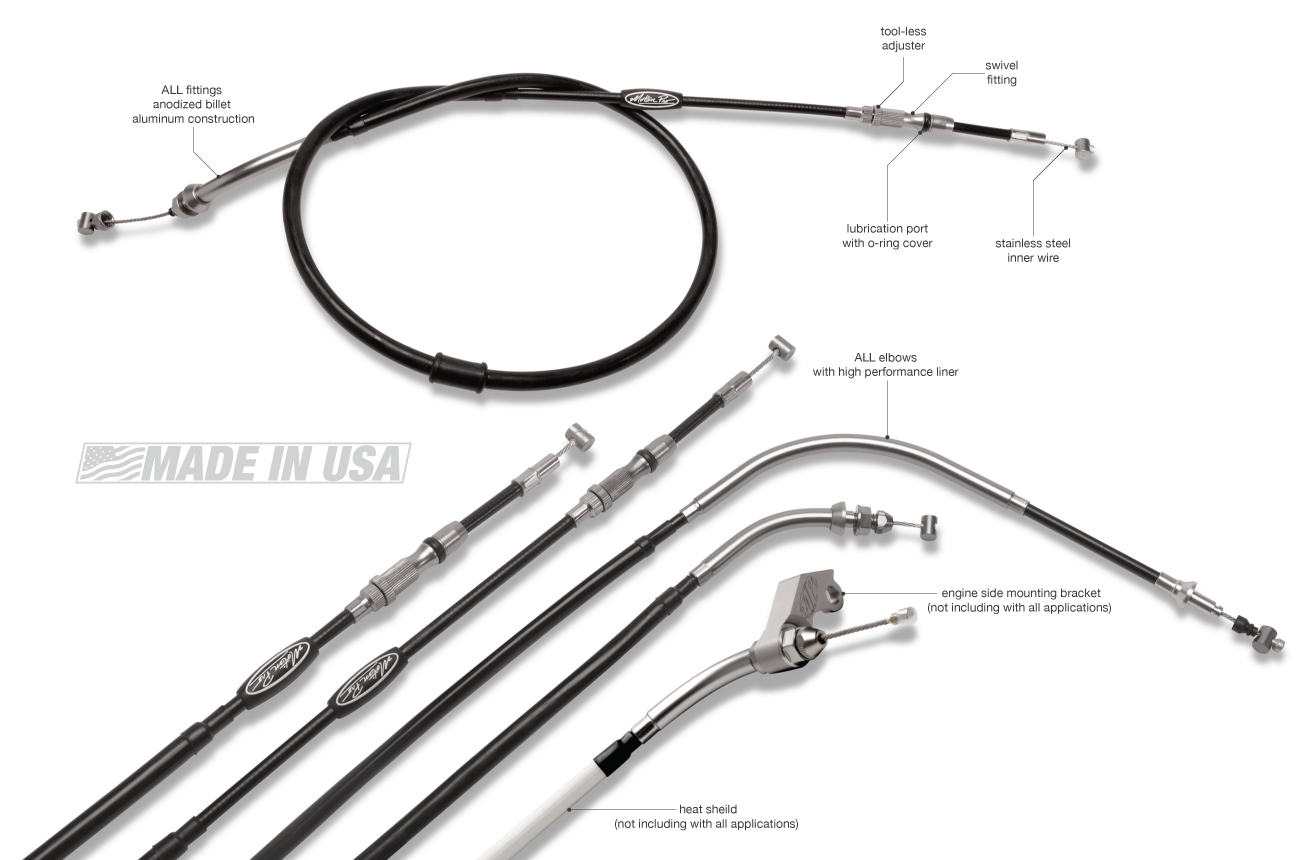 Details
Clutch & Hotstart
Proprietary high performance liner in the elbow increases cable efficiency and greatly increases cable life
Tool-less adjuster with innovative swivel fitting allows quick and easy cable adjustments
Tool-less adjuster has built in lubrication port with o-ring cover for easy, no mess maintenance
All fittings and elbow are anodized billet aluminum construction
Low friction seals keep dirt and water out delivering smooth, long lasting operation
Stainless steel inner wire provides durability and additional smoothness
Assembled with constant viscosity synthetic grease
Made in the USA
The T3 Cables™ extended length on the throttle cable allows for routing behind the number plate, which provides better clearance and easier installation.
Developed and tested in conjunction with FMF/KTM off-road
---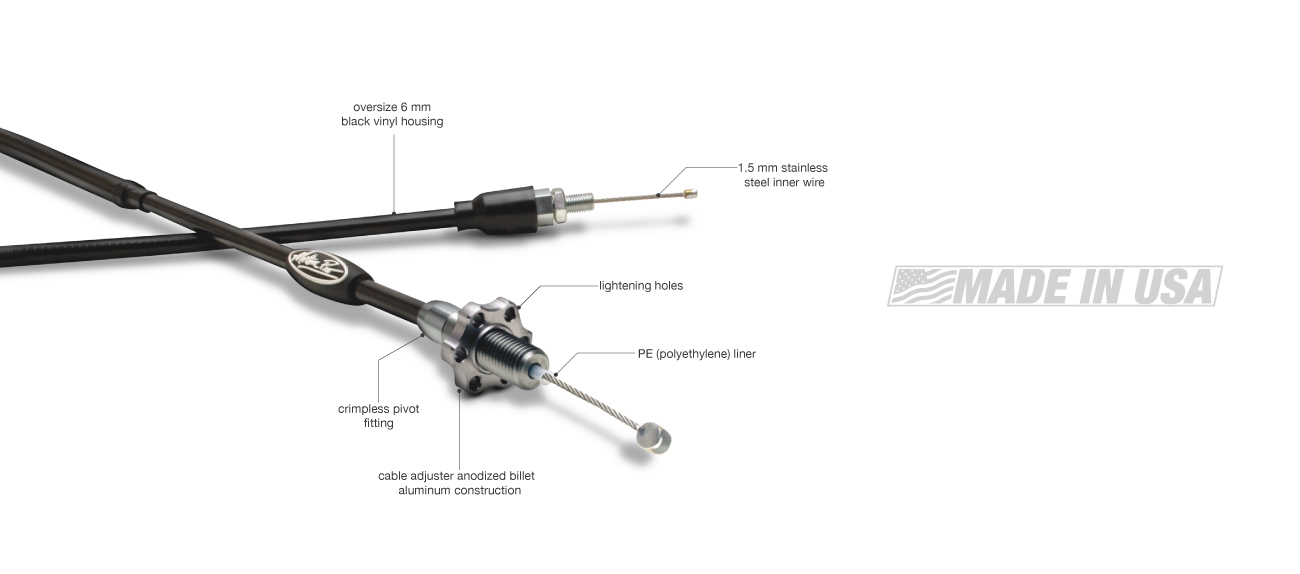 Details
Throttle
Our premium throttle cable designed for 2-stroke motorcycles
Adjuster barrel is attached to the cable housing with our unique crimpless pivot fitting which holds housing securely in place and cannot pull out of adjuster like OEM cable
Features oversize 6 mm black vinyl housing with smooth PE liner and a 1.5 mm ultra flexible stainless steel inner wire
Pivot fitting allows adjuster barrel to turn freely for easy installation and adjustment
6 point billet aluminum adjuster nut with lightening holes with durable titanium gray anodized finish provides a factory works bike look
Available in standard length or plus length of 5.3" longer than KTM and Husaberg OEM throttle cable
Plus length option is standard length throttle cable for Gas Gas
Hand made in the USA by Motion Pro
---
T3 Cables Videos
Cable Luber V3

Original Motion Pro design seals completely around cable housing
Makes it easy to clean and lubricate control cables
Less mess and less wasted lubricant
Unique design makes it the best sealing cable luber on the market
Works on most control cables with 4 mm to 8 mm OD housing
Seals over most free spinning end fittings
Adjustable plunger insures efficient use of cable lube
Easy to use and clean
Best if used with Motion Pro Cable Lube (15-0002), not included
Patented Design

Part # 08-0609





$24.99



Add to Wishlist



T3 Honda CRF450R Clutch Cable Bracket

Engine side mounting bracket for T3 clutch cable
Billet 6061 aluminum

Part # 00-5033





$17.99



Add to Wishlist



T3 Honda CRF250R 2013 Clutch Cable Bracket

Part # 00-5042





$19.99



Add to Wishlist



Motion Pro Cable Lube, 6 Oz Can

Premium blend of Redline Line synthetic lubricant and rust inhibitors provide the smoothest operation and maximizes cable life
Provides smooth cable operation in all weather conditions and temperatures
For best results and less wasted lubricant use Motion Pro Cable Luber V3 (Part No. 08-0609)
Depending on riding conditions, we recommend lubricating your cables between every ride or every other ride
Formulated by Motion Pro

Part # 15-0002





$16.50



Add to Wishlist



Grease Cards
Use "Search by Vehicle" above for the most up-to-date application listings.
Download an application grease card for a handy quick reference.
T3 Slidelight Cable Grease Card
Installation Instructions
T3 Slidelight Cables should be installed by a professional mechanic in accordance with your vehicle's factory shop manual and specifications.
Warning: Improper installation could result in great bodily injury or death.
Important: These cables have been pre-lubed at the factory. No additional lube is necessary before installation. Lube cable periodically while in use. We recommend using Motion Pro Cable Lube 15-0002
One Year Limited Warranty
Motion Pro products with a one year limited warranty are guaranteed against defects in materials or workmanship only for one year from the date of purchase and this guarantee is limited to repair or replacement of the product only and to the original purchaser only. Call Motion Pro warranty department at 650-594-9600 to get an RGA number before returning product. Send product back to Motion Pro Warranty Department, 3171 Swetzer Rd, Loomis, CA 95650 for inspection with RGA number clearly noted on outside of box or in letter inside box. Include note with product clearly stating claimed defect, proof of purchase, and your contact information. Motion Pro reserves the right to inspect and determine if a product is defective and that product was not subject to misuse. Consumers outside of the USA must contact the store where they purchased the product from to obtain warranty return and service directions for their country and location. Above is the customer's exclusive remedy. The above is expressly in lieu of all other warranties express or implied and of all other obligations or liabilities. In no event shall Motion Pro, Inc. be liable for any incidental or consequential damages arising from the breach of any warranties, improper use, the failure to deliver, delay in delivery, delivery of non conforming parts or any other breach of contract or duty.