Motion Pro Cable Lube, 6 Oz Can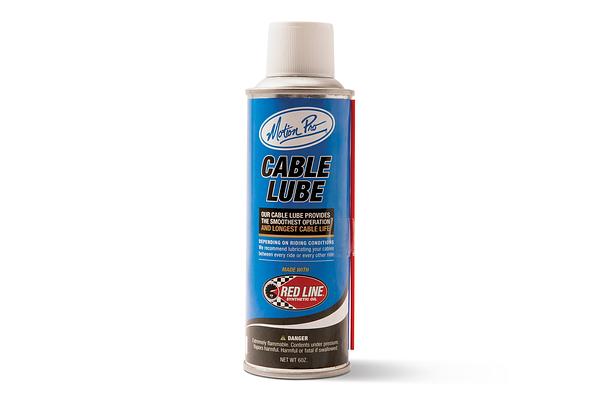 Premium blend of Redline Line synthetic lubricant and rust inhibitors provide the smoothest operation and maximizes cable life
Provides smooth cable operation in all weather conditions and temperatures
For best results and less wasted lubricant use Motion Pro Cable Luber V3 (Part No. 08-0609)
Depending on riding conditions, we recommend lubricating your cables between every ride or every other ride
Formulated by Motion Pro
Part No. 15-0002
$16.99
orders of $29.99 or more ship for free
In stock at Motion Pro
It's ready to ship from here today
Accessories and Related Items
---
WARNING:
This product can expose you to chemicals including Phthalate (DEHP), which is known to the State of California to cause cancer and birth defects or other reproductive harm. For further information, go to
www.P65Warnings.ca.gov
.
Tech Tips and Product Usage

Tech Tip: Cable Maintenance 101
Newsletter

Motion Pro Cable Lube

Maintaining Control Cables
Downloads
Customer Reviews
Great Lubricator! I use it on all my motorcycles I own. Thanks Motion Pro.
by E-Rock on February 19, 2008
---
Write a review
We use cookies to offer you a better experience and analyze site traffic. By continuing to use this website, you consent to the use of cookies in accordance with our cookie policy.