Cable Luber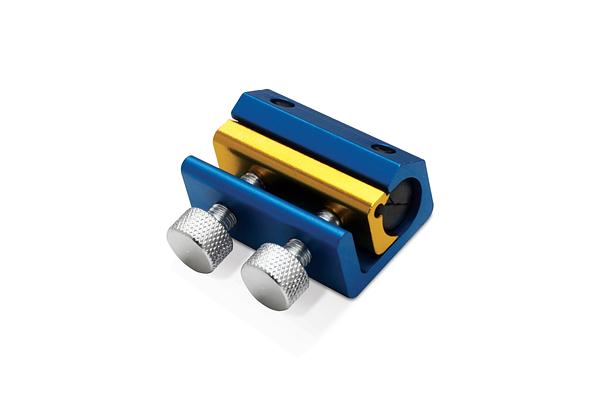 Used to inject lubricant into cable housing
Works on most control cables with 5 mm to 10 mm O.D housing
Clamps over housing and wire allowing an aerosol can to be connected
Once lube runs out the far end, the cable is lubricated
Ideal for use with Motion Pro Cable Lube part no. 15-0002
Part No. 08-0182
$10.99
orders of $29.99 or more ship for free
In stock at Motion Pro
It's ready to ship from here today
Accessories and Related Items
---
WARNING:
This product can expose you to chemicals including hexavalent chromium (chromium 6), which is known to the State of California to cause cancer and birth defects or other reproductive harm. For further information, go to
www.P65Warnings.ca.gov
.
Tech Tips and Product Usage

Tech Tip: Cable Maintenance 101
Newsletter

Maintaining Control Cables

Motion Pro Cable Lube
Customer Reviews
Instructions?
I'm a fairly mechanical person, but spent an hour trying to figure out how to use this device. I ended up taking off the cables, and lubing them by hand. This device will be going back. Maybe include some instructions next time, or maybe somewhere on your website?
by Chris on September 12, 2008
---
I love it!
I've been using one of these for years. It makes lubing cables fast and easy.
by John on September 19, 2008
---
what's with the poor review?
You have to have a brain made of carbon deposits to not be able to figure out how to use this. Slip it on the exposed cable, slide down to the housing, tighten and then connect your can with attachment on the nozzle to the little opening on the side. Geeze, walk in to any bike shop and ask... or ask your neighbour's 7-year old. They'll figure it out easy enough. I recommend the luber with the two screws but this one works fine enough.
by Camilo on September 28, 2008
---
brilliant
One drop at a time is how I used to oil my cables. Oh, how foolish I was. This thing is so simple easy and clever, I can't believe I didn't think of it. Slipery cables are like new shocks; you don't realize how bad it is until you change it.
by george on October 21, 2008
---
Diagram Please
I think this is a good idea. Based upon the review written, for those who know how to use it. I just don't quite get it, could you prouce a picture of how it goes on the cable?
by Vern on January 21, 2009
---
Cable Lube and Cable Luber
Together the cable luber and the cable lube have made my bike work like it is a new bike. Hasn't been this smooth in years.
by M. Howeth on April 30, 2009
---
Frees rusty cables
I have used one of these for years flushes dirt and rust right out of cable
on November 30, 2011
---
Cable Lube Quick and easy
If you do not understand how to use this item, don't fret, we all have to learn somewhere. Watch this video: http://www.youtube.com/watch?v=TFMVlQRrBDE -Adam I have this Motion Pro Cable Luber and it works just fine.
on February 3, 2012
---
great tool
I'll admit it took me a few minutes to figure it out but after that it was a cinch to use and made lubing clutch & throttle cables a breeze. Faster and a lot neater than lubing by hand with a messy rag. Been using mine for years and can't do w/o it.
on September 24, 2012
---
How to do it?
CHECK OUT MC GARAGE ON YOUTUBE
on August 13, 2017
---
Write a review
We use cookies to offer you a better experience and analyze site traffic. By continuing to use this website, you consent to the use of cookies in accordance with our cookie policy.