MP Tool Metric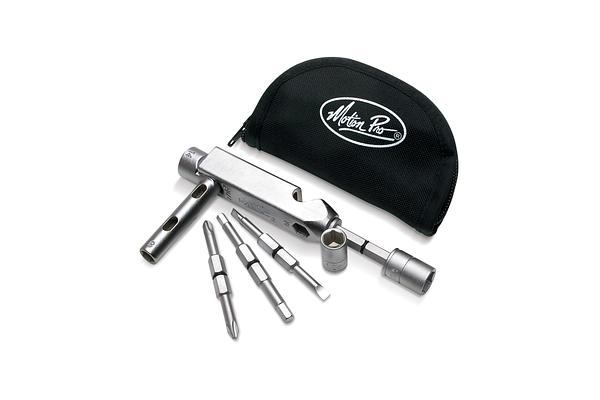 A must-have for on-the-trail repairs or adjustments
Can be used to remove 8, 10, 12 & 14 mm bolts, #2 & #3 Phillips screws, small & medium straight-slot screws and 5 & 6 mm Hex bolts
Includes a 1/4" and 3/8" socket driver
10 mm & 12 mm 1/4" drive sockets included
Enhance it by adding your own 1/4" or 3/8 " drive socket attachments
Includes convenient carrying case
Hard nickel pewter finish
Replacement bits available separately
Part No. 08-0161
$76.99
orders of $29.99 or more ship for free
In stock at Motion Pro
It's ready to ship from here today
Accessories and Related Items
---
Replacement Products
WARNING:
This product can expose you to chemicals including hexavalent chromium (chromium 6), which is known to the State of California to cause cancer and birth defects or other reproductive harm. For further information, go to
www.P65Warnings.ca.gov
.
Newsletter

Featured Product: MP Tool (Metric)
Customer Reviews
Great tool kit. Amazingly compact for all that it does. One request: Add a hex bit that has 3 and 4 mm tips on it to go with the 5/6 mm bit already in the kit.
by Craig on September 8, 2008
---
super tool
This one rides with me always. Has most of the tools needed to get the small things done. Please add more torx bits. That would complete the kit.
on September 27, 2012
---
Very Compact
Quality tools in a compact pouch. It's hard to think of what else you might need on the trails, but this kit is so compact it's a great place to start. Tools don't feel cheap or like they would break if you really need to crank on them.
on May 9, 2014
---
the one i carry
this is in my daily driver bike .. added spark plug socket and the extra allen sizes and kit is in a bag with some other choice tools i have even patched a tire on the road dave wd8cyv
on July 25, 2014
---
We need JIS bits
This is a great tool however I would love to see JIS bit because all my bikes are Metric Japanese with JIS not Philips which will always cam out and leave me with a stripped screw. Please bring JIS to the MP Tool Metric
on July 31, 2022
---
Write a review
We use cookies to offer you a better experience and analyze site traffic. By continuing to use this website, you consent to the use of cookies in accordance with our cookie policy.