Grip Glue and Multipurpose Adhesive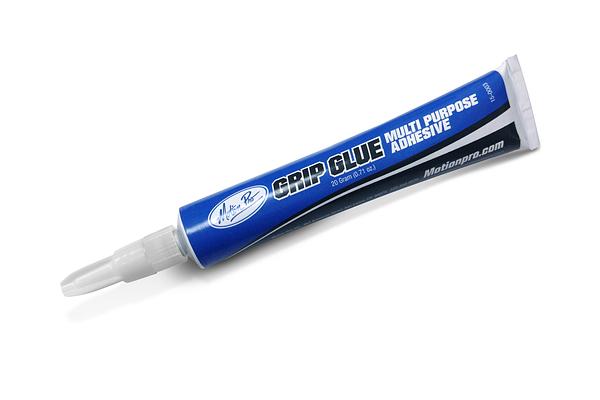 Motion Pro engineers and test riders found this formula to be the best grip glue available at any price
Easy to apply and easy to remove from throttle tube and bars when you change grips
High cured temperature resistance is compatible with grip heaters
Set time is not so fast that you have to rush when installing grips, but fast enough so you can get riding right away
Becomes tacky in 15 minutes at room temperature
Outperforms rubber cement, acrylics and silicones because it bonds to more surfaces with greater strength and durability
Also works great as general adhesive for anything that requires a flexible, waterproof bond that won't crack or become brittle.
Excellent bonding to metal, plastic composites, rubber, leather, vinyl, glass and wood
Exceptional flexibility, does not become brittle or hard
Can bond items subject to vibration
Abrasion resistance makes it great for bonding objects subject to wear
Waterproof
20 gram tube (0.7 ounce) is enough for multiple applications
Part No. 15-0003
$11.99
orders of $29.99 or more ship for free
This item is unavailable.
Out of stock at Motion Pro
Check with your favorite store or distributor
Accessories and Related Items
---
WARNING:
This product can expose you to chemicals including Tetrachloroethylene (Perchloroethylene), which is known to the State of California to cause cancer. For further information, go to
www.P65Warnings.ca.gov
.
Reference

Throttles and Throttle Kit Guide
Customer Reviews
Write a review
We use cookies to offer you a better experience and analyze site traffic. By continuing to use this website, you consent to the use of cookies in accordance with our cookie policy.