Chain Breaker with Folding Handle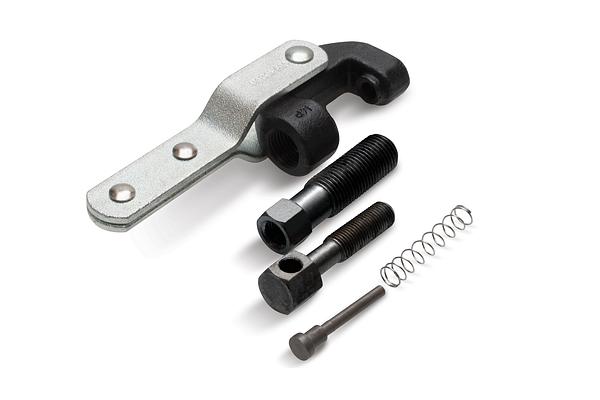 Original Motion Pro design
Fits 420 to 530 chain
Will push link pin completely through link / side plate
Handle folds away for easy storage
Durable drive pin is heat treated for strength and wear resistance
Will not work on EK 530 MVO/MVX chain
Max pin extension to drive out chain links is 18mm. The maximum pin extension required to drive out the chain link is determined by measuring your chains width from outside face plate to outside face plate.
Beware of imitations! This tool was originally designed by Motion Pro over 30 years ago. Since then, many of our competitors have tried to copy this tool, but none of them have got it quite right. Over the years we have added several new, not so obvious features that enhance the function and durability of this tool. You won't find those features on the copycat versions. You can only get the original and best folding chain tool from Motion Pro.
Part No. 08-0001
$36.99
orders of $29.99 or more ship for free
In stock at Motion Pro
It's ready to ship from here today
Accessories and Related Items
---
Replacement Products
WARNING:
This product can expose you to chemicals including Phthalate (DEHP), which is known to the State of California to cause cancer and birth defects or other reproductive harm. For further information, go to
www.P65Warnings.ca.gov
.
Downloads
Customer Reviews
Chain Breaker
Stellar tool. Supplied by my local Matco tool guy. I can do everything but flare rivet ends with this tool. durable, compact, trustworthy enough for heavy usage in my shop. Presses pins in and out and is a perfect compliment for fast services.
by on May 12, 2010
---
Write a review
We use cookies to offer you a better experience and analyze site traffic. By continuing to use this website, you consent to the use of cookies in accordance with our cookie policy.