Carb Tool 90 Degree w/Bits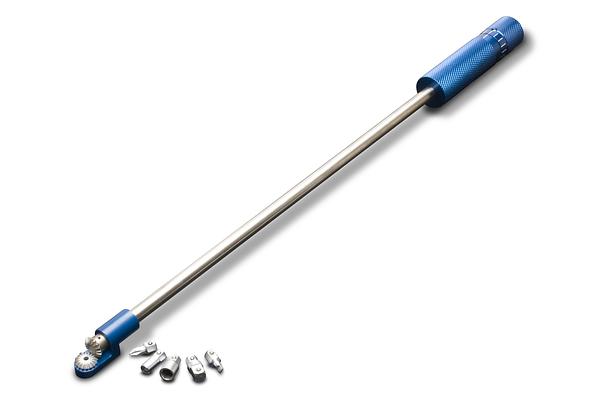 Precision made of aircraft grade aluminum & stainless steel
Designed for hard-to-reach areas and air/fuel mixture screws on multi-cylinder motorcycles
Gear driven 1/4" hex drive
Detent action in handle with matching laser-etched index marks allows for precise adjustments (detent feature can be disabled if desired)
Includes five 1/4" hex drive bits (all 1/2" long) - Straight-slot, Phillips, D-shaped air/fuel mixture screw bit, 6 mm hex jet bit & 1/4" -hex-to-1/4" -drive bit
Can be used with any 1/4" or 6 mm hex bits
Strongest tool of its type on the market
Max torque is 50 lb/in
17 1/2" long
Replaceable drive gears
One year limited warranty
Part No. 08-0229
$82.99
orders of $69.99 or more ship for free
In stock at Motion Pro
It's ready to ship from here today
Accessories and Related Items
---
Replacement Products
WARNING:
This product can expose you to chemicals including hexavalent chromium (chromium 6), which is known to the State of California to cause cancer and birth defects or other reproductive harm. For further information, go to
www.P65Warnings.ca.gov
.
Customer Reviews
to thick
the bits are to thick for most atv carbs and it would be helpful if there were some longer options as well.
on September 15, 2014
---
Write a review
We use cookies to offer you a better experience and analyze site traffic. By continuing to use this website, you consent to the use of cookies in accordance with our cookie policy.