Wheel Bearing Remover 8 Piece Metric Set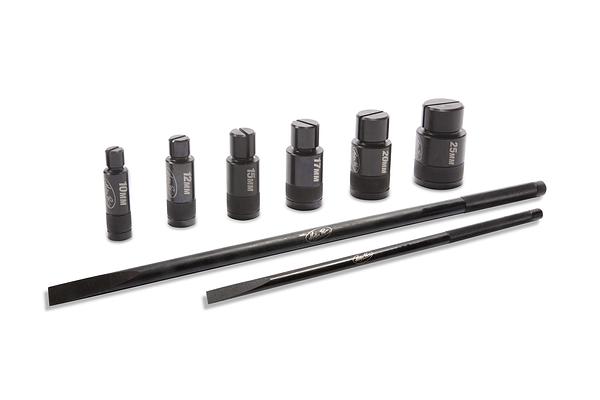 8 piece metric set includes large and small drivers, 10 mm, 12 mm, 15 mm, 17 mm, 20 mm, and 25 mm removers
Dependable split collet design
Also available as individual components
Heat treated for durability and long service life
One year warranty against manufacturing and material defects
Part No. 08-0269
$86.99
orders of $29.99 or more ship for free
This item is unavailable.
Out of stock at Motion Pro
Check with your favorite store or distributor
Accessories and Related Items
---
Replacement Products
WARNING:
This product can expose you to chemicals including Phthalate (DEHP), which is known to the State of California to cause cancer and birth defects or other reproductive harm. For further information, go to
www.P65Warnings.ca.gov
.

Wheel Bearing Remover Sets, 08-0269
Tech Tips and Product Usage

The Importance of Maintaining Your Wheels
Customer Reviews
No sweat extraction
Used to extract/replace shot rear bearing on the 10 yr old Suki DT200 I recently bought in Costa Rica. Grabbed with 2-3 whacks and extracted with another 4-5 (3# sledge). Far easier than I anticipated. I've extracted bearings from several of my vintage Yamaha TT600s using traditional screwdriver/punch routine, and this was nothing in comparison. Only bad news is that now I need another set for my shop in TX.
by Jeff on January 25, 2009
---
Write a review
We use cookies to offer you a better experience and analyze site traffic. By continuing to use this website, you consent to the use of cookies in accordance with our cookie policy.