ForkTru™ - Fork Alignment Tool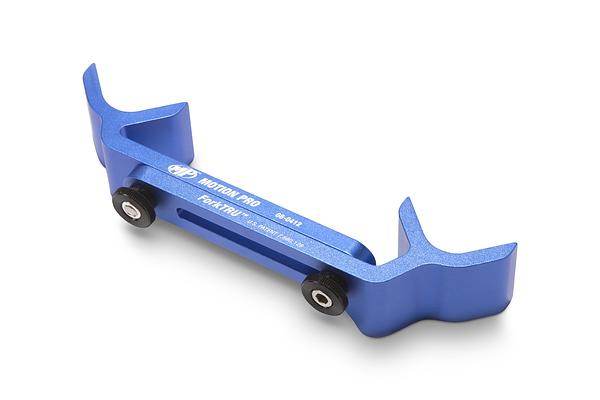 Quick and easy to use tool for aligning front forks to ensure they are parallel from top to bottom
Knurled adjustment screws for easy setup
Reduces stiction and improves the performance of your front suspension
Reduces seal and bushing wear
Fits most MX and off-road motorcycles (does not work on most sport bikes due to large brake rotor diameter and 17 inch wheel diameter)
Will work on 27 mm - 62 mm fork legs and tubes
Works on forks that are 140 mm to 220 mm on center
Patented design
Lifetime limited warranty
Part No. 08-0412
$34.99
orders of $29.99 or more ship for free
In stock at Motion Pro
It's ready to ship from here today
Accessories and Related Items
---
WARNING:
This product can expose you to chemicals including hexavalent chromium (chromium 6), which is known to the State of California to cause cancer and birth defects or other reproductive harm. For further information, go to
www.P65Warnings.ca.gov
.
Tech Tips and Product Usage

Tech Tip: Fork Alignment
Downloads
Customer Reviews
Pilot
I usually set the fork legs by bouncing the forks up and down with the pinch bolts loose. I checked my old setting with the Forktru and found it was off by more than 2mm. Haven't ridden it yet so I don't know how much effect it will have, but it sure can't hurt and will probably make the seals last longer.
by Andy on February 13, 2008
---
Write a review
We use cookies to offer you a better experience and analyze site traffic. By continuing to use this website, you consent to the use of cookies in accordance with our cookie policy.