Steering Head Bearing Race Driver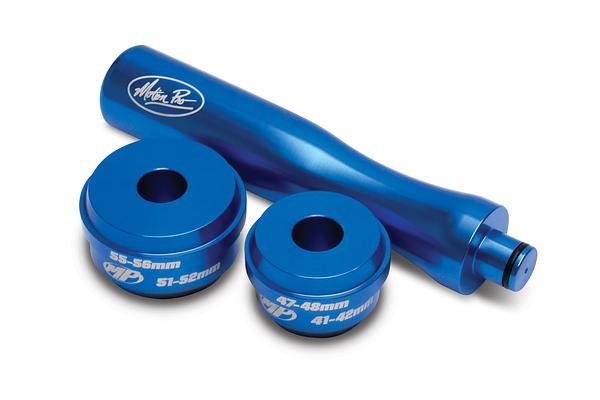 Fits tapered steering bearings 41-42 mm, 47-48 mm, 51-52 mm and 55-56 mm
Innovative double sided drivers
Safely installs the tapered bearing race in the frame
Made of durable 6061-T6 anodized aluminum
Ergonomic handle
Laser etched for easy identification
Part No. 08-0550
$52.99
orders of $29.99 or more ship for free
In stock at Motion Pro
It's ready to ship from here today
Accessories and Related Items
---
Replacement Products
WARNING:
This product can expose you to chemicals including hexavalent chromium (chromium 6), which is known to the State of California to cause cancer and birth defects or other reproductive harm. For further information, go to
www.P65Warnings.ca.gov
.
Tech Tips and Product Usage

Tech Tip: Maintaining Your Motorcycles Steering Stem
Customer Reviews
Good design but easily damaged
Works well and fits nicely. Aluminum used for the race drivers is soft enough that it is easily damaged when driving bearings. Damage does not really affect the use of the tool but sharp aluminum splinters hurt if you get your fingers too close. Have a file nearby to dress the edges when they get damaged.
on December 10, 2015
---
Write a review
We use cookies to offer you a better experience and analyze site traffic. By continuing to use this website, you consent to the use of cookies in accordance with our cookie policy.