Crankcase Splitter V2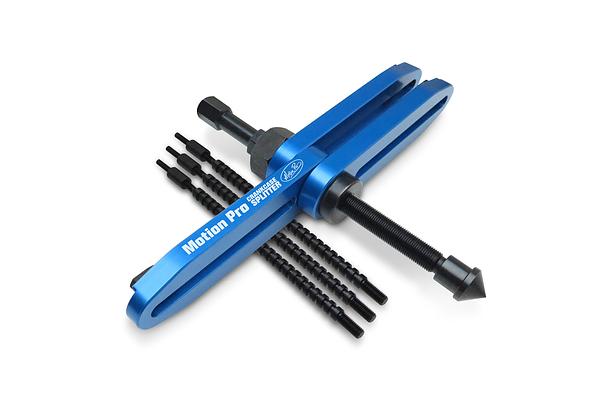 This new tool from Motion Pro is the fastest and easiest to use case splitter ever devised!
Unique design makes it easy to center puller over crankshaft
Grooved puller studs are fast and simple to install
Captured retaining collars in puller arms allow quick adjustment and set up
Durable tool steel body with protective black finish
Billet 6061 aluminum arms with blue anodized finish
Includes 5, 6 and 8 mm threads on puller studs to fit various engine case sizes
Includes molded tray for storage and organization
Designed by Motion Pro
Part No. 08-0605
$259.99
orders of $29.99 or more ship for free
In stock at Motion Pro
It's ready to ship from here today
Accessories and Related Items
---
Replacement Products
WARNING:
This product can expose you to chemicals including Phthalate (DEHP), which is known to the State of California to cause cancer and birth defects or other reproductive harm. For further information, go to
www.P65Warnings.ca.gov
.
Customer Reviews
Makes a tough job easy
Can't say enough good things about this splitter. I've used it now on a number of different engines, both 2 and 4 stroke, and it works great when splitting case halves and pressing out crankshafts. A unique tool design that is very adaptable.
by on July 30, 2018
---
Write a review
We use cookies to offer you a better experience and analyze site traffic. By continuing to use this website, you consent to the use of cookies in accordance with our cookie policy.