Motion Pro Staff Picks - Steven Scott
Staff Memember: Steven Scott, Research and Developement Manager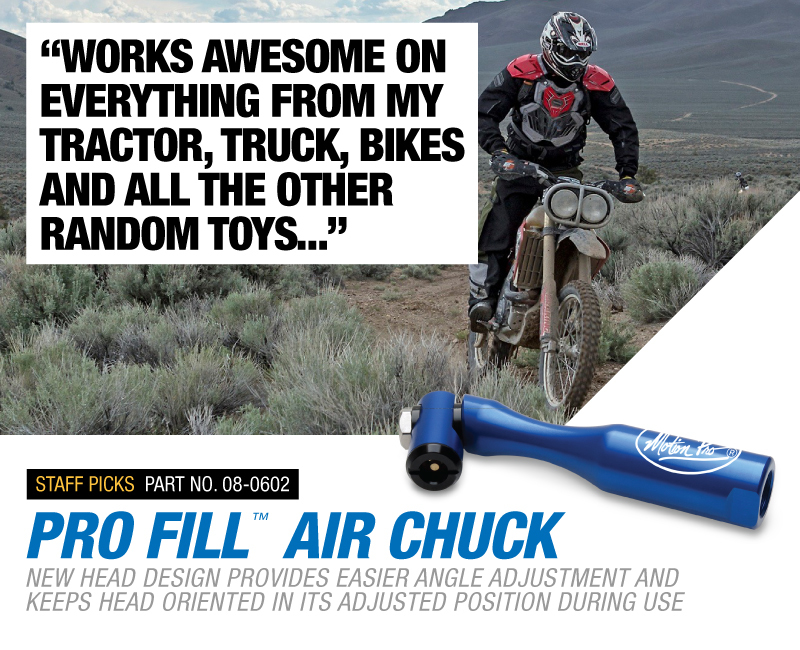 ---
Q. What is your favorite Motion Pro product (Name/Part#)?:
A. 08-0602 Pro Fill Air Chuck
Q. What makes this one of your favorite products?:
A. I'm a big fan of this little tool because of the pivot head and slim handle profile. On my sport bikes, filling the front tires was always a total pain because of the large brake rotors. This one is the only air chuck that can easily get in between the rotors.
Q. How often do you use this product or is it installed on you're Motorcycle/Scooter/ATV/UTV/Snowmobile/Vehicle?
A. I have one on my air hose and my 08-0684 professional tire gauge. Works awesome on everything from my tractor, truck, bikes and all the other random toys we all have in our garage.
---
Check out our complete line of Tire/Wheel Tools and Accessories: