Chain Alignment Tool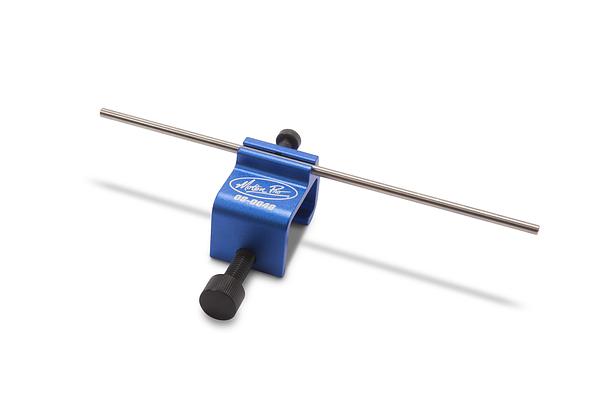 Quick and accurate alignment
Tool body clamps squarely to rear sprocket so the alignment rod will indicate sprocket alignment to chain
Lifetime Limited Warranty
Part No. 08-0048
$14.99
orders of $29.99 or more ship for free
In stock at Motion Pro
It's ready to ship from here today
Accessories and Related Items
---
WARNING:
This product can expose you to chemicals including Phthalate (DEHP), which is known to the State of California to cause cancer and birth defects or other reproductive harm. For further information, go to
www.P65Warnings.ca.gov
.
Newsletter

Tech Tip: Chain Alignment
Customer Reviews
The only way to do it!
I bought one. Put new DID EVR3 gold race chain Supersprox laser cut rear and Renthal front. I used alignment marks on the sides rear axle. Ran about 6 miles. I got back I saw bits of gold all over that side on swing arm even rim. Got one of these and used it and man was alignment way off. Adjusted until you could take ,015 feeler ga. from back to front of rod laying on rollers just snug against links. Carefully torqued axle and added extra tension to adjusters. Cleaned up and ran now over 4K miles never adjusted again!! Checked factory marks, way off! No evidence of wear chain or sprockets. Also DuPont Chain Saver! Perfection alignment! Thanks MP! Beware folks. Factory marks not even close! A Joke! You can't even hear chain riding and barely in quiet BSMT rolling tire. BTW laser cut sprocket a 360 degree turn of rear tire no difference in slack at all. Used tension tool. < 1mm change in full turn of tire. Total Shock! Never seen any bike like that. I guess that's why no noise. Unbelievable! Thx again MP! Beware of factory marks!
on October 4, 2018
---
Write a review
We use cookies to offer you a better experience and analyze site traffic. By continuing to use this website, you consent to the use of cookies in accordance with our cookie policy.