PBR Chain Tool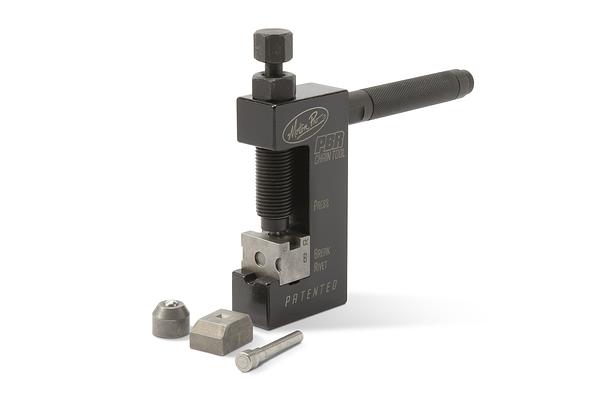 Innovative design will Press, Break & Rivet 520, 525, & 530 chains with one convenient tool
Versatile design will remove chain pins, press master-link plates and rivet hollow nose & soft nose (quad stake) master link pins on O-ring and non O-ring type chains
Easy to use design allows you to change tool functions by simply moving the position of the anvil block
Indexing letters on movable anvil and body ensures correct tool configuration. Simply line up the letter on the anvil to the letter on the body to get the configuration you need!
All components conveniently store on tool when not in use
Includes protective plastic case for convenient storage of the PBR tool and all its components
All steel construction with heat treated components for strength and durability
May be supported in a vise or held with included handle
Great for the professional technician or DIY mechanic
Compact enough to carry in a travel tool box, perfect for track side use
Includes spare pin
One year limited warranty against defects in workmanship and materials
Patented design
Part No. 08-0470
$109.99
orders of $29.99 or more ship for free
In stock at Motion Pro
It's ready to ship from here today
Accessories and Related Items
---
Replacement Products
WARNING:
This product can expose you to chemicals including Phthalate (DEHP), which is known to the State of California to cause cancer and birth defects or other reproductive harm. For further information, go to
www.P65Warnings.ca.gov
.
Downloads
Customer Reviews
PBR Chain Tool...A Must
I just purchased the PBR Chain Tool off of EBay and am astonished at how well this little item performs. It is a must have tool for all technitions and DIY Mechanics! Took me less than 5 minutes to measure, break, and rerivet my new chain on to my Electra Glide. The time and engineering that went into making this tool so user-friendly has truly paid off. I will never be without this tool again!
on March 18, 2015
---
GOT TO HAVE IT
I BOUGHT MY PBR CHAIN BREAKER 5 YEARS AGO ITS SAED ME LOTS OF TIME AND MADE ME LOTS OF MONEY STILL WORKS AS GOOD AS THE DAY I TOOK IT OUT OF THE BOX.
on October 21, 2017
---
Lo mejor
It is a tool with an impressive design, very intuitive to lock and a unique quality, I am very comfortable
on November 10, 2020
---
Press Break and Rivet
I bought this tool to replace the chain on my 2021 Suzuki V-Strom 650. Great tool, work great and did the job right the first time. Motion Pro are premium tool.
on May 16, 2023
---
Can't Recommend
Pushed out rollers as well as the pin. Damaged new chain and couldn't use due to now being too short. I've seen some reviews recommending that you grind the side plates prior to using tool. What's the point of buying this tool then?
on June 14, 2023
---
Write a review
We use cookies to offer you a better experience and analyze site traffic. By continuing to use this website, you consent to the use of cookies in accordance with our cookie policy.