BeadPro™ Tire Bead Breaker and Lever Tool Set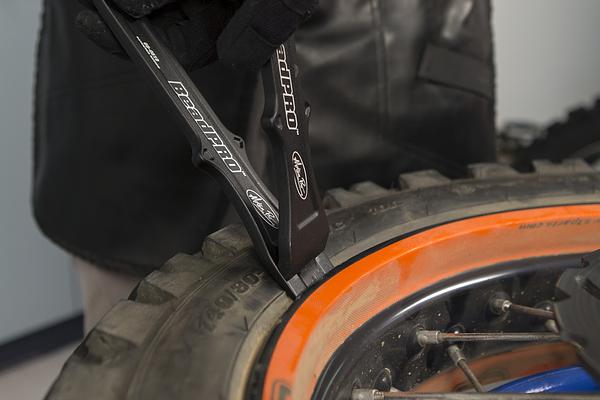 Innovative multi-use tire tool set
Breaks the bead on most street and off road motorcycle tires
Integrated tire spoons for tire removal and installation
Light weight and compact size is perfect for tool packs (just 9 ounces for set of 2)
Length of each lever is 249 mm (9.8")
Ergonomic handles with crossguard to keep hand from riding forward
Forged 7075-T6 aluminum construction for strength and durability
Black anodized finish
Patented Design
Part No. 08-0519
$76.99
orders of $29.99 or more ship for free
In stock at Motion Pro
It's ready to ship from here today
Accessories and Related Items
---
Newsletter

Tech Tip: Wheel Accessories and Service Tools

Tech Tip: Changing Tires with Motion Pro
Customer Reviews
They're the answer...
I've been changing tires for over 50 years, as a dealer and a racer and RTW rider, and demo my techniques at my events and other events. Before the BeadPro, we used many methods, like the sidestand trick for side-of-the-road bead breaking on tubeless tires. Dangerous but works! I now recommend the BeadPro levers to everyone - it's definitely by far the best method to break the bead on even the toughest tubeless tire and rim combination at the side of the road. I don't travel without them. Grant Johnson www.HorizonsUnlimited.com
on April 15, 2020
---
Don't look at the pictures
The pictures with the instructions on the back of the package show the first lever being used upside-down. The wording of the instructions is correct though could be clearer on this point. And the pictures and video on this product page are correct. These are excellent: useful, non-marring. lightweight.
on August 2, 2021
---
Write a review
We use cookies to offer you a better experience and analyze site traffic. By continuing to use this website, you consent to the use of cookies in accordance with our cookie policy.